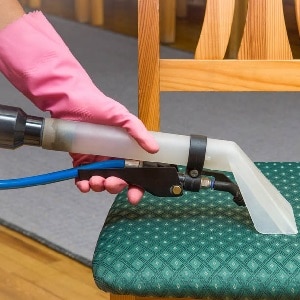 Upholstered chairs are probably not the first thing that comes to mind when you think of the furniture in your home. They are, however, without a doubt, one of the most used household items. No matter how we use chairs, whether watching TV or using a using dining room chair to eat dinner, upholstered chairs are essential to our daily lives.
Unfortunately, their constant use and exposure to dirt and dust particles can also lead to an accumulation of a stain or two. Even bacteria and germs can become dangerous if not cleaned regularly.
As a leading provider of premium cleaning services, Dynamik has created an effective way to clean chairs in your home. We have cleaned thousands of chairs so you could say we know what we are doing.
Professional Chair Cleaning Service
Cleaning should be done on a semi-regular basis, depending on how often your chairs are use and the type of surface material they are made from. Additionally, different materials will require different types of cleaning. Don't worry, our technicians are trained and knowledgeable to handle any kind of material your upholstered chairs are made from. We use a specially formulated cleaning solution to handle the cleaning.
Dynamik's Chair Cleaning Process
We clean all types of upholstered chairs at Dynamik. We clean all kinds of chairs including but not limited to armchairs, bedroom slipper chairs, dining chairs and so on.
At Dynamik, we have a very specific way of cleaning chairs. Our cleaning method has been satisfying our clients for over 30 years. We use a deep steam cleaning process that penetrates the fabric and removes dirt, stains, bacteria and other microscopic particles of dust left behind from everyday use. Here are the steps we take to deep clean your chairs:
Step #1 – Vacuuming
We vacuum the chair's fabric surface to remove dust, loose dirt and other potential allergens such as pet dander. We are using a vacuum cleaner with a HEPA filter to pick up mold spores if the fabric smells mouldy or musty.
Step #2 – Pre-Treatment
Pre-treatment is now applied which is designed to handle specific types of fabrics as well as different substances such as coffee, tea, ink etc. The purpose of this pre-treatment is to break up stains and general soiling so it's easier to clean.
Step #3 – Steam Cleaning
We then use a deep steam cleaner on the fabric surface of your chair and our high-temperature, low water process removes bacteria from all surfaces including armrests, backs, seams, etc. This is done using powerful vapour combined with a cleaning mixture that contains a chemical upholstery cleaner that penetrates deeply into fabrics for maximum cleaning effect.
Step #5 – Sanitizing
After we have removed all dirt and bacteria from the fabric surfaces, our sanitizing process eliminates any odours left behind on your chair's fabric surface. This is done using a green-certified solution that has been tested to be child-safe for use around infants or toddlers.
Step #6 – Final Inspection
We also perform a final inspection before leaving so we can ensure everything has been done correctly and you are satisfied with our work. If we find anything was missed we resolve it before leaving.
Cleaning Tips for Chair Care
If you have a family with kids and pets, maintaining upholstered chairs can be quite a challenge. Here are a few things you can do to help keep maintain your chairs.
Vacuuming
Make sure you do this to your chairs every week to keep their surface free of soil. Additionally, this prevents dirt from becoming embedded into the fibres. Also, you can use a brush to gently remove the dir. If you use a brush, make sure the bristles are soft so that they don't snag on the fabric.
Spot Cleaning
Taking regular care of your upholstered chairs will greatly improve their longevity. However, accidents will always happen. Blot spills immediately with a clean towel; do not rub, but blot gently. In some cases, this is enough to eliminate the stain, especially if the fabric was pretreated with a fabric protector. If you want to spot clean a surface, test the product on an inconspicuous area first, and check the manufacturer's instructions to determine whether a water-based or solvent-based cleaner is needed. The best cleaning products are mild ones. Use a soft brush to work the cleaner into the fibres, then vacuum any soap residue or use a dry cloth to gently wipe it clean.
Avoid Sunlight and Pollutants
A lot of sun exposure can damage upholstery fabric, causing it to fade and fray. Try to position your chairs so they don't sit in the sun for extended periods. This is especially true for silks and other delicate fabrics. Similarly, airborne pollutants, such as fumes from cooking or smoke, can damage your fabrics. It's not always easy to prevent this, but proper ventilation can help. It can also help control odours since upholstered furniture absorbs odours readily.
Call a Professional
The best way to maintain your chairs is to have them professionally cleaned every six months to every year as you will get a proper deep cleaning. We recommend having this done regularly instead of waiting until it becomes visibly dirty. The dirtier a chair becomes, the harder it is to restore to its original glory. We also offer sofa cleaning and mattress cleaning.
Why Use Dynamik for Chair Cleaning
Fabric chairs are susceptible to collecting germs such as bacteria that could lead to colds or other illnesses if it is not properly taken care of. Chair cleaning is important to help ensure you keep a cleaner and healthier environment. Fortunately, we are here to help. Dynamik has vast experience with chair cleaning. We are not just a generic upholstery cleaning company. Contact us today for a quote and we can get you booked in. We will completely remove and clean stains, dirt and everything else from your chairs. There won't be a single inconspicuous spot left once we are done!
We offer our cleaning services in Bowmanville, York, Whitby and all over the rest the GTA.