Mattress Cleaning Service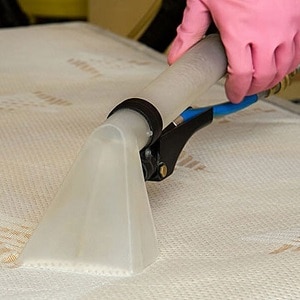 You spend about a third of your life sleeping. Yet, the thought of cleaning a mattress isn't something that you generally think about. While most completely overlook cleaning it should be part of your regular cleaning routine.
We all know how important mattresses are to our lives. They are beneficial to our health and wellbeing. They provide us with a comfortable place to sleep and rest every night. Read a book, watch a movie. Or even just chill out while using your phone.
This is exactly why contamination occurs. Dust, dead skin cells, sweat and oil, dirt, grime and all kinds of other things come off our bodies. These things can cause staining but for the most part, the dirt and germs are invisible. Your mattress may also be dirty due to other factors such as pets walking on your bed. Just imaging how much dirt and bacteria that are invisible to the naked eye is being tracked in from outside. If you or anyone in your family suffers from any health problems this is even more important. A clean mattress is a healthy mattress.
Additionally, it is important to understand that mattresses are not made of a single material. There are many different layers of materials. Including foam or cotton, water-repellent vinyl linings and polyester fabrics on the top and bottom, and various types of padding, such as wool and feathers. Due to this, it's not just the surface that gets dirty. A special cleaning process that deals with the various layers.
A mattress can potentially be a serious investment. While some can cost a few hundred dollars you can also spend thousands on others, especially the high-end range. So you want to make sure it lasts and that means learning how to take care of it. As mentioned above, mattresses can harbour dust mites, dead skin, dirt, and other debris, which means they need to be cleaned regularly, particularly if you, any of your family members suffer from allergies or have pets.
Essentially, it is a service that is designed to clean mattresses by removing stains, dirt, dust mites, or other debris from them, to keep them clean, fresh, and free from allergens such as bacteria and mould.
Luckily, Dynamik can deeply clean and refresh your mattress, eliminating the bacteria and allergens build-up that's potentially ruining a good night's sleep. Our cleaning system brings a new level of cleanliness to your bed. This is not just basic steam cleaning. We have some of the best cleaning equipment available for complete restoration. Our intensive cleaning process uses two separate steps to leave your mattresses hygienically clean and fresh. The results we deliver are better than a lot of other cleaning companies, and we are confident you will be amazed by the quality and result of our service.
Further, mattresses of different types require different cleaning techniques since they each have their unique ways of being cleaned. For instance, steam cleaning is the most common method used. Whereas dry foam treatments remove pet hair without causing moisture damage. The method we use will depend on the type of mattress you have and the problem that needs fixing.
Why Is Cleaning Your Mattress Important?
There are a couple of reasons why you should have your mattress professionally cleaned. Benefits such as:
Increased Air Quality
A dirty mattress is one of the main contributors to polluted air in a room. In light of how much sweat, dust, oil, and old skin are found on mattresses, it's easy to see why they can pollute the air around them. When you stay in a dirty room, you begin to smell bad and breathe in the contaminants. One of the main benefits of having your mattress cleaned is that your home will instantly have better air quality. Removing the biological contaminants and potential odours helps you sleep better at night. A clean mattress goes a long way in improving your quality of sleep as well as the air you breathe around it.
Reduces the Risk of Allergies and Itching
It's hard to sleep at night when you're constantly scratching or sneezing. In addition to dust mites and fungi irritating your allergies, a mattress can also irritate your skin and make you feel uncomfortable. By eliminating harmful bacteria, you reduce the risk of allergies, itching, and certain illnesses.
Prolonged Lifespan of Your Mattress
To make sure that your mattress lasts a long time, you should clean it regularly. It is beneficial to clean it thoroughly to reduce the amount of wear and tear between the linings as well as the cover. A torn mattress casing is vulnerable to damage, exposing the inner springs and cushioning, causing them to wear out faster. To prevent this, clean your mattress regularly to prolong its lifespan.
It's best to have your mattress cleaning professionally dealt with twice per year to prevent odours, bacterial growth, and heavy stains from accumulating. You will sleep much better and the difference will be amazing. Dynamik offers this deep cleaning service.
Our Mattress Cleaning Methods
Stain Removal
The cleaning treatments we offer are capable of removing even the toughest stains, such as blood, urine, ink and wine. The presence of organic stains can further compromise the mattress's hygiene by encouraging the growth of germs. Some of these stains are so complex that not removing them may further deteriorate the condition of the material. Stains should be dealt with ASAP.
At Dynamik, we have expert technicians that are experienced cleaners who can deal with your mattress. With their solid understanding of stains and their respective treatment methods; they have the capability of treating and safely removing nearly every kind of stain.
Steam Cleaning
Mattress steam cleaning is a modern way of getting a deep cleaned. We are certain we can clean your mattress bringing it back to perfection. Leaving your mattress smelling fresh and soft. Additionally, our steam cleaning method removes all germs and microbes since the hot temperatures are sufficient to kill those germs.
Odour Removal
You know how unpleasant it is to sleep on a stinky mattress. As a result of this odour, filthy mattresses can also negatively affect the quality of indoor air and degrade the air quality in the home. You can use our mattress odour removal service to get rid of all the odours and odour-causing bacteria lurking inside your mattress. Generally, we use natural and green products to remove odours from mattresses. Also, natural oils and essential oils enhance the mattress's natural smell and make it safe and fragrant.
Dry Cleaning
Another popular service is mattress dry cleaning, which has amazing benefits for the quality and condition of the mattress. Our professional cleaners use the best equipment available dry cleaning agents that can bring about better cleaning results. We will remove all odours present in the mattress as part of our service. This type of service is generally used when time is of the essence. Normal steam cleaning can take 6 to 8 hours to dry. Dry cleaning reduces this time span down to almost nothing.
Mattress Warranty Cleaning
If you own a mattress that is covered by a warranty you are generally required to get an annual mattress cleaning to prevent void the warranty requirements. Or, if you are returning a mattress for an exchange you are generally required to have it professionally cleaned and provide a tax invoice before you are allowed to get your mattress swapped.
Most people don't realize just one single stain on the mattress might prevent you from returning it. Dynamik's mattress warranty cleaning service will ensure that your mattress will be stain-free and look new.
For Mattress Sanitation and Mold Removal Services
Dynamik offers an effective mattress sanitization service that can eliminate all the germs and pathogens. We use specialized disinfectants that can kill all the viruses and bacteria.
Mold and mildew can ruin a mattress and render it useless. We eliminate mold with antifungal and antimold chemicals. After the mold is removed the mattress is thoroughly cleaned and properly disinfected to further eradicate mold. Our service helps prevent future mold growth as the chemicals used actually create a protective barrier that lasts for months.
Commercial Mattress Cleaning Service
We also offer commercial mattress cleaning services for your company.
If you own a small bed and breakfast that needs 10 mattresses cleaned. Or perhaps you manage the cleaning services for a hotel or aged care facility that required 500+ mattress cleaned. We have the technicians and the right equipment to help get the job done. Proper maintenance in a commercial setting is even more important than in the home.
Mattress Cleaning & Maintenance Tips
While getting your mattress professionally cleaned is the ultimate solution. It is best to combine professional services with a regular cleaning routine.
How do you maintain your mattress? Vacuuming your mattress regularly is one recommendation. A quick vacuum of your mattress each week is all that's needed. We also highly recommend investing in a quality mattress cover. The mattress cover prevents sweat, moisture, hair, pet dander and dirt from getting into the mattress. It is also advisable if you have small children or pets to get a waterproof mattress cover.
On the other hand, even if you have a waterproof mattress cover you still need professional cleaning to remove all the germs, allergens, bacteria and microbe particles that can get through the cover. It is also important to examine the mattress cover for tears regularly. You may sometimes find that they break and you will no longer have complete protection for your mattress.
Moreso the life of padding can also be extended with regular mattress rotation. If you own a double-sided mattress, you should flip it regularly. We recommend doing it every month and washing your bedding once every two weeks. It keeps your bed smelling fresh and prevents odours from penetrating the fabric of the mattress. Keeping up with these simple tasks will help maintain your mattress.
For the past 30 years, Dynamik has been saving and restoring mattresses for our customers. Our perfected method allows us to provide a deeper clean, allowing for your mattress to stay in excellent shape for an extended period of time. Our technicians also work with all-natural, non-toxic eco-friendly cleaners so your health will not be put at risk.
Call us today and book our mattress cleaning services. We are a professional company that gets the job done right. We provide you with high-standard services while making sure you don't have to deal with any annoying stains or odours on your mattresses even again. You can rest easy at night, knowing that your mattress is clean and healthy. We also offer chair cleaning and sectional furniture cleaning.
We offer our cleaning services in Mississauga, Courtice and all over the rest the GTA.