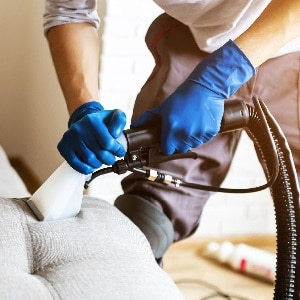 Sofas are the most comfortable furniture in the home. It is where we spend hours reading, watching Netflix and resting our tired feet after a long day of work. But as time passes by, just like all types of upholstered furniture, sofas start to accumulate dust and dirt which causes them to lose their original look and feel.
Fortunately, there are ways you can keep your sofa clean without spending too much money. Dynamik offers a variety of cleaning services that will not only make your sofas look good as new but also bring fresh air to the house removing any old stains causing odours. We have been in this business for 30 years and we are the foremost cleaning experts.
In addition to regular maintenance such as weekly vacuuming, you should have your furniture professionally cleaned once a year. This lines up with most follow the manufacturer's instructions. Here at Dynamik, we offer several ways to clean your furniture, especially your sofa.
Stain Removal
The most common damage that sofas typically suffer from is dirt and stains. A stain left unattended could damage your sofa's fabric and cause it to discolour. Additionally, it can encourage the growth of germs and pathogens. Dynamik offers the best sofa cleaning solutions with added stain protection.
The stain protection process involves the coating of the sofa's fabric with a water-repellant base. This specific chemical coat is capable of repelling water, causing it to bead up as it passes through. Sofas can be cleaned easily when they are treated with stain protection coats.
Steam Cleaning
Our customers can get their sofas cleaned with our steam cleaning service. We thoroughly clean each part of the sofa using cleaners designed specifically for sofas. We use state-of-the-art equipment to achieve optimal results. We remove the dirt and grime that has accumulated over time. The process will enhance the appearance and fluidity of your sofas for years to come.
Conditioning & Sanitizing
We offer our customers a complete sofa conditioning service at Dynamik. With our antimicrobial solution, we can kill 99% of bacteria, fungi, and germs, as well as remove odours from deep within your sofa cushions. The sanitizing process also removes unpleasant odours such as those caused by spilled food, smoke, and many more.
Emergency Cleaning
We offer an emergency sofa cleaning service for any reason. Accidental stains and spills. A baby threw up. Or maybe a pet had an accident. Our emergency cleaning services are available round the clock, 24 hours a day. Just give us a call and we'll be there ASAP.
How Does Dynamik Clean Sofas?
Dynamik is a professional sofa cleaning company that provides its service. We use only the best equipment and cleaning products to ensure that your sofa looks amazing and you have clean couch cushions once we are done. Our technicians use the following procedure to clean a couch.
Step #1 – Vacuuming
First things first, all the dust and other debris on the sofa must be vacuumed with a special vacuum cleaner that is just used on sofas. Vacuuming not only gives a more thorough clean but also makes it easier for our technicians to spot stains that need special attention.
Step #2 – Pretreatment & Spot Test
Next, the spot test. We find a small inconspicuous area of your couch to do a fibre test to make sure our treatment won't cause discoloration or other issues. Once the test is complete we move forward and apply the pre-treatment to the sofa. A cleaning solution is applied to remove tough stains like oil or makeup. Pre-treatment also helps to loosen up the dirt and make it easier for our cleaners to remove.
Step #3 – Cleaning
We offer a variety of cleaning methods such as steam cleaning to give your sofa a thorough clean. We use a special upholstery steam cleaner designed for sofas that gently applies water pressure to wash away all grease and grime from the fabric surface of your furniture. Our steam cleaning works very well on the material by softening and fluffing the fibres. We also take off any removable covers and get a deeper clean across your entire sofa.
Step #4 – Post Treatment
Once we are done with our deep clean, a post-treatment is applied on your sofa to make it smell fresh.
Step #5 – Sanitizing
This is an extra service. Your sofa will be sanitized with our eco-friendly sanitizing solution. This ensures that your furniture is not only clean but it's free of any harmful bacteria too that cause odours.
Step #6 – Drying
Finally, comes the drying process. We will assess the sofa and advise you how long it will take to dry before you can use it again. You want it to be completely dry before using it again.
There are various types of sofas, including fabric, leather, and microfiber. Sofas of different types require different cleaning methods and equipment. To get the best results, book a professional service with Dynamik and let us take care of everything. Here are some benefits your get when hiring us:
Servicing All Types of Fabrics
We have the expertise and knowledge to deal with all types of fabrics your sofa could be made from. Dynamik has been cleaning sofas for a long time, over 30 years, so we are familiar with everything. We can deal with the most delicate natural fibres to regular store-bought couches.
Safe Cleaning
As a professional cleaning company, safety is one of our top concerns when choosing the right cleaning chemicals and products for your sofa. This means that you can be assured that the products and procedures we use are safe for you, your loved ones and your pets.
Our Quick-Drying Process
With our quick-drying process, most fabrics dry within one to three hours, so you, your family, and your guests can enjoy using the sofa again the same day. Fabrics and furniture that do not dry properly can develop mold and mildew, which are harmful to your health. Our drying process avoids this.
Protecting Your Sofa
We are experts in our field. When store-bought cleaning products are applied to the wrong types of fabrics, they can cause blemishes or undue wear and tear on your sofa, which can make your furniture appear aged or unsightly.
There's no need to worry because we know which types of products go with which fabrics to avoid costly cleaning disasters. Our cleaning process does not leave any dirt-attracting residue, meaning that your sofas will not re-soil prematurely as is often the case with other cleaning processes. This is one of the benefits of hiring a professional sofa cleaning company and more than justified the cost.
Why Hire Dynamik For Sofa Cleaning
Dynamik doesn't just provide a generic upholstery cleaning service. We provide the best quality sofa cleaning service in the industry. Plus chair cleaning among other services.Our customers are always happy with the results. We offer affordable rates and guarantee you will be smiling once we are done! Call us today and get booked in!
We cover Toronto, North York, York, Maple, Woodbridge, Thornhill, Vaughan, Scarborough, Markham, Richmond Hill, Pickering, Oshawa, Ajax, Whitby, Courtice, Bowmanville, Mississauga, Halton Hills, Milton, Oakville, Newmarket, Whitchurch-Stouffville, Port Perry, Uxbridge and everything inbetween.