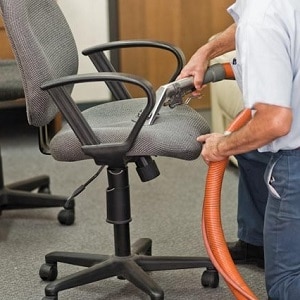 When you think about it, you probably spend most of your time sitting at your desk in your office chair while at work. It is very important for you to feel comfortable. To accomplish that, you need an office chair that fits you properly, fits your décor and smells fresh.
Over time, staff spill coffee and other drinks. Or even dropped their lunch while eating at their desk. Office chairs get dirty and stained over time. Multiply this by a small office of 20 or a large office of hundreds and you have the perfect breeding ground for germs and bacteria that needs to be cleaned. Dynamik specializes in office chair cleaning and has done so for 30 years. We provide a complete package of services that will make sure your office chairs are properly cleaned smelling fresh for your staff.
Fabric Office Chair Cleaning Services
It's important to clean office chairs to maintain a hygienic workplace. Dynamik offers cleaning services for all kinds of office chairs. There are too many to list but the two most common office chairs that we clean. The task chair and the traditional fabric office chairs.
Fabric Office Chair Cleaning
Fabric chair cleaning is necessary to get rid of dirt, dust and allergens. We clean fabric chairs with a deep-cleaning solution that also removes the stains, spills and spots. We use a pH-balanced, alcohol and fragrance-free cleaning solution that is safe for humans as well as for a chair's fabric. Our cleaning methods penetrated deep into the fibres of the chair to remove dirt and other particles without damaging the fabrics or leaving residue behind on the chair's surface. Task chairs are cleaned similarly to fabric chairs if they are fabric-based task chairs.
In most cases, Dynamik's office chair cleaning includes the following summarised process.
Step #1 – A special commercial-grade upholstery vacuum cleaner is used to remove all loose dirt and debris from both the chair's outer surface as well as its inner lining or fabric upholstery (if removable).
Step #2 – We use brushes with soft bristles that work well for scrubbing office chair fabric. This helps to loosen up the fabric fibres of the office chair.
Step #3 – We proceed with the deep steam cleaning of your office chair. We use special attachments with our upholstery cleaner to hold the fabric taut while we insert long, stiff plastic blades into its crevices and seams, working our way from top to bottom on all parts of the chair. We may swap to a dry cleaning method depending on the type of material your office chairs are built out of.
Step #4 (Optional) – Finally, a fresh coat of sealant is applied to protect the upholstery. The sealant makes the chair harder to stain from food and liquids among other stains. And it protects it from the build-up of future germs and allergens.
Benefits of Office Chair Cleaning
When cared for properly, furniture upholstery like office chairs can last a long time. But, it needs to be cleaned and maintained. If it's not maintained it can affect your employees. Investing in regular upholstery cleaning outweighs the cost. An office with clean and fresh-smelling office chairs puts the entire office at ease. And it speaks to your staff indirectly. Telling them that they are looked after. Dirty and stained chairs that are not looked after speak to your staff in another way, that the boss does not care about the staff's wellbeing. Something you don't want.
There are several benefits associated with hiring a professional office chair cleaning company such as Dynamik:
Saves Time
It's important to realize that it is impossible to clean office chairs to the rigorous standards of a trained professional on your own. Furthermore, renting a steam cleaner and trying to do the job yourself will cause you to lose hours of valuable time and money. Or worse, you can even damage the chairs if the cleaning process is not carried out correctly.
Servicing All Types of Fabric
Dynamik has an extensive range of experience when it comes to the type of fabrics most office chairs are made with. Each type of fabric needs a similar process but at the same time, there are slight differences that need to be factored in that we know like the back of our hand.
Prolongs Office Chair Lifespan
Your office chairs won't wear out prematurely if you clean them regularly. Prolonging the life of an office chair does come down to keeping it clean so the stains, spots, dirt and grime don't have a chance to damage the fabric and padding underneath.
Kills Bacteria & Germs
Steam cleaning will eliminate any bacteria, microorganisms and others germs that office chairs may harbour, resulting in a more sanitary and safe working environment. Furthermore, it will eliminate mold, mildew, and fungi that may be causing adverse health outcomes in the workspace.
Restores Appearance
Generally, professional upholstery cleaning restores the upholstery fabric's original vibrancy and appearance. If you want your office chairs to look new and last, it's best to invest in a high-quality cleaning service.
Improves Indoor Air Quality
You may notice a substantial improvement in your office's indoor air quality after investing in professional office chair cleaning. This is because your office chairs can harbour dander, dust and pollen, as well as mold and other allergens that are removed during the cleaning process. Once you remove stains and other odour-producing issues the surrounding environment can smell fresher.
Office Chair Care and Maintenance
There are many small things you can do to keep office chairs clean, but it does require some time and effort on your part. You can take these simple steps to keep your office chairs in good shape for many years and make sure that you get the most out of your investment.
Regular Cleaning
Regardless of the material used in manufacturing the chair, regular cleaning is very important. A chair needs to be cleaned properly to remove the accumulated dust and dirt. Using a vacuum cleaner is also an option, just make sure that the brush attachment does not damage the chair. A lower level of suction should be used with the vacuum cleaner to stay safe. Your regular nighttime office cleaners can take care of this adding it to their to-do list one per week.
TIP – Train your staff to advise managers about any spills or stains that occur on their office chair seat. Instead of covering them up. Use a clean cloth that's dry to gently dab up any excess liquid. Don't wipe or rub otherwise the stain will be pushed further in and could damage the padding of the chair.
No Harsh Cleaners
If you want to clean the chair, it is recommended that you use a specific cleaning solution. It is best to follow the manufactures cleaning instructions to find out what type of cleaner can be used with the fabric. Either neutral, acidic or alkaline depending on the pH level that is recommended. This goes for all office furniture, not just chairs.
Office Chair Casters (Wheels) Maintenance
Not all maintenance is about the fabric. Another important part of an office chair is its casters. Daily use of the chair exposes its wheels to a lot of dust and dirt from your shoes, carpet, and other items. These items become caught in the caster and interfere with its mobility. You can move the chair while using a vacuum cleaner to clean the wheels at the same time. If this does not clean the wheels properly they can be taken apart and cleaned. After they are clean, you can add any lubricant to ensure the wheels move smoothly. Don't forget to wipe the legs of the chair down also.
Why Use Dynamik for Office Chair Cleaning
We understand that irregular hours are best suited for office chair cleaning. After the staff have gone home for the night or the week. Our hours are flexible, day or night, weekend or weekday. All today to speak to us about a quote to clean your office.