Office Cubicle Partition Cleaning Service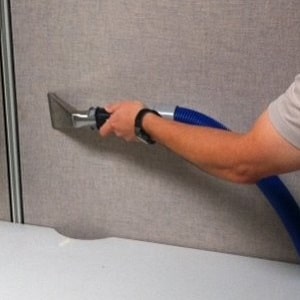 Many offices today have a large number of cubicles and partitions. With routine office cleaning, these fabric-covered office panels that a business generally used get overlooked. Fabric-covered office panels, partitions, cubicles, as well as fabric-covered wall dividers, require periodic cleaning to look good and help provide a positive image for your employees and clients visiting your office.
Dynamik understands the specialized commercial cleaning techniques required for office partitions and cubicles safely to make them look amazing. Our experienced teams utilize high-powered equipment and technology that generates a clean and fresh look. To help remove stains, dirt, dust mites and other allergens from your cubicle walls and partitions.
Office Cubicles & Partition Cleaning Services
Cubicles are used as an efficient yet simple way to maximize workspace, create a more private work area, to allow more workers to be placed in a building more conveniently. Although a cubicle is a type of wall, it cannot be simply wiped down like a painted, permanent wall can be. Most cubicle walls are constructed with a fabric overlay that can collect dust, germs, bacteria, dirt, and other contaminants.
Replacing them can be very costly as a single cubicle can have as many as 3 wall panels. The left, right and middle. Getting office partitions professionally cleaned will save you thousands of dollars in comparison to replacements. We clean cubicles of all types in your office including office cubicles, office panels as well as fabric wall partitions. If your office has been around for a while, then it's likely dust and other stains have settled on the cubicle walls. Most of the time you can't even see the dirt. But, it's there!
Dynamik uses a deep cleaning process that combines a vacuuming solution, with warm water washing and scrubbing to remove the dirt from your cubicles. We start by using water-based preps and then scrub away any remaining stains with an industrial power washer. Spraying down the panels is very important as they get cleaned from all angles this way.
We then vacuum the cubicle walls and use a dry-dusting process to reveal any remaining surface dirt or dust. When cleaning fabric walls and partitions we speed up the drying time. We may use industrial air movers to ensure that fabric dries as quickly as possible. Finally, we will finish up by wiping down the panels with disinfectant so they are clean and sanitized for your employees.
Types of Cubicle Cleaning
Cleaning your office cubicles and partitions can be a tedious task, but it is beneficial. Here are some reasons why it is necessary to clean your office cubicles and partitions regularly.
Stain Removal
Many people will eat lunch in their cubicles because they are incredibly busy. Food will inevitably splash onto the walls. Food stains can be disgusting to look at, but they also become a problem for bacteria and smells. Cleaning cubicle walls is never on the top of anyone's list of tasks in an office, and if the spots are not even noticed, they aren't cleaned by the normal cleaning crew either. Dynamik can help you with this problem and will make sure that the stains are removed before they become a bigger issue.
Dirt Removal
Cubicle walls need regular cleaning because they are always in contact with the human body, which can leave behind oils from our hands, dirt from clothes, and bacteria that we naturally excrete. All of these substances should be flushed out by disinfectant cleaners. Cleanings should be done promptly because dirt and bacteria can take root. The longer the surfaces are left untouched, the harder it will be to remove them later on.
Improves Air Quality
When we clean cubicles and partitions, it also means that the air circulating in the office is cleaner. Dynamik will help you achieve this since our cleaning solutions are odourless, powerful, and non-toxic cleaners. We can make the workspace more enjoyable for all by removing those germs, allergens and odour-causing microorganisms.
Increases Employee Efficiency
A clean space not only makes your employees feel better but lets them know that you are looking after them. This is very subtle. As no one will bring it up but in the mind of your staff member, they know that you care about the cleanliness of the workspace. Imagine for a moment if you kept the office dirty, what would they be thinking?
A clean workspace is indirectly related to happy staff. And happy staff correlates with improved efficiency.
How Often Should Office Cubicles and Partitions be Cleaned?
It is one of the most commonly asked questions from our commercial clients. Typically, cubicle partitions are made of fabric, which can act as a dust-and-germ magnet. You should have cubicle walls professionally cleaned at least every year; however, a bi-annual cleaning is best particularly in spaces with high staff numbers. Some companies never clean their office partitions. Or they come to us for cleaning after 10 plus years to book the first cleaning. If this is the case. Get the first booking scheduled for office cubicle & partitions cleaning.
Maintaining Cubicles and Partitions Properly
Even when your staff are not in the office the cubicle or partition can still get dirty. But there are a few things you can do to maintain your cubicle or partition properly.
Clean Stains and Spills Immediately
Since office cubicles and partitions are sometimes used as a place to eat and drink among other activities other than working it's important to clean up stains and spills as soon as possible to prevent the growth of bacteria. Especially since the splatter night hit the carpet as well as the cubicle.
Nighttime Cleaning
One of the best things that can be done to keep cubicles and office partitions clean is to make sure that your nighttime janitorial cleaning crew has the partitions on their to-do list. A quick wipe down of the external metal barrier should be completed a few times per week. Along with a vacuum of the partitions fabric material. If these two items are added to the nighttime cleaner's to-do list a can reduce the amount of work that is needed overall. Stains can't simply be wiped down with a wet towel. They should be reported by staff so they can be dealt with as soon as possible. This can be a spot clean by the nighttime crew if they have the right equipment for the cleaning or a professional can be hired to come in to do the cleaning.
Dynamik As Your Prefered Cubicle Wall Cleaning Professional
Keeping your cubicle walls clean can be quite a challenge, especially if you manage a large office. We provide cubicle wall cleaning services for all kinds of office spaces. You'll never have to worry about dirty and stained cubicle wall panels again because we can remove spots and stains. Kill the allergens and bacteria and even extend the life of your office furniture. Call Dynamik today to get a free quote and schedule an appointment! Remember, a clean cubicle and office environment look better, smell better, and are an overall healthier place for your employees and clients.
We also provide other cleaning services such as general a upholstery cleaning service and other commercial services such as office chair cleaning that you can combine with cubicle cleaning within the same appointment.
We cover Toronto, North York, York, Maple, Woodbridge, Thornhill, Vaughan, Scarborough, Markham, Richmond Hill, Pickering, Oshawa, Ajax, Whitby, Courtice, Bowmanville, Mississauga, Halton Hills, Milton, Oakville, Newmarket, Whitchurch-Stouffville, Port Perry, Uxbridge and everything inbetween.