Commercial Carpet Cleaning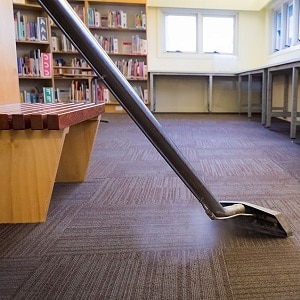 A clean workplace is a safe workplace. If you run a business in today's day and age you need to take a realistic look at how much foot traffic is walking through your business premises. Do you have clients that visit the business premises on-site? How about customers? Generally vacuuming won't cut it. You likely need a commercial carpet cleaning service and maintenance program. It's not only a part of the standard upkeep of any commercial property but it will very likely be part of your commercial rental agreement.
A business that gets lots of foot traffic every day will produce soiled carpets very easily. Aside from the aesthetic appeal of clean carpets in a business. There are also some really practical benefits for your business. A clean carpet can make a massive difference in the overall appearance of your business. A more attractive and well-maintained environment will boost customer confidence, create a warmer ambiance for customers to enjoy, and improve employee morale. No one want's to work in a dirty workplace.
There are many benefits to maintaining your carpets with the help of a professional service provider. Our expert carpet cleaning technicians at Dynamik Carpet Cleaning will get your carpets clean and looking amazing.
Commercial Carpet Cleaning Service
Carpet is a major component of most commercial spaces. It is the preferred option for flooring in conference rooms, hallways, offices, hotel and common space, receptions, showrooms and many other, if not the majority of all commercial properties. Available in almost any colour and design, carpet flooring enhances the appearance of a work environment and can be used to make commercial space feel more inviting. While also acting as an air filter. Dirt, dust, allergens, and other air pollutants get trapped in carpets, keeping the indoor air quality in your building healthier. Unfortunately, carpets require regular cleaning and a proper maintenance program to not only look good but stay clean and healthy.
Commercial Carpet Cleaning Maintenance Services
A carpet maintenance program is specifically designed for your commercial space to keep your carpets clean and cared for on an ongoing basis. It will ensure your carpet continues to look its best and help you avoid a costly replacement of carpet down the road. Carpets are expensive and require proper carpet cleaning services regularly.
Restorative commercial carpet cleaning should take place at least twice per year. It will not only remove any dirt, dust, or debris but also sanitize and protect your carpet from future spills. The more often you clean, the better. Proper carpet maintenance is not only recommended by carpet manufacturers can also help maintain the colour and vibrancy of the carpet.
There are many benefits of having clean carpets in your building. It saves money on utilities like central air conditioning due to better insulation. Employees tend to be more productive when they have cleaner surroundings within their workplace. A clean environment also reduces the risk of health problems such as allergies and asthma. A healthy environment in a positive space where employees can succeed.
You want to protect your carpet investment. Your carpets either add or decrease the value of your property. You want to remain on the positive side.
Why Is A Commercial Carpet Cleaning Program Important?
It is important to create a positive first impression as your business will never have a second chance to make that impression. If you are not proactive with the upkeep of your carpets through proper cleaning. Dirt, grime, stains and general soiling will start to show through. Moisture can build up on carpets from spills and even humidity. This can lead to the growth of mold under the carpets. This is a situation any business should avoid at all costs. Even small amounts of mold can cause major health issues for anyone on the premises.
It's important to keep carpets tidy so employees feel like their employer cares for them. Not looking after carpets can create an unpleasant environment that is distracting. This can have an impact on employee morale and efficiency. Imagine working at your cubicle for a moment as a staff member and not a few feet from you is an unsightly stain from coffee or printer ink. And you know that the boss won't take care of it. It would not be a good feeling at all.
Maintaining commercial carpet doesn't have to take much work if you simply hire professionals who come prepared with the best cleaning supplies and specialized equipment. The benefits of hiring a professional carpet cleaner far outweigh avoiding the situation. If carpet fibres are not properly cleaned, they will fade, discolour, mat, fray, and will ultimately have to be replaced prematurely and for a great deal of money.
Here at Dynamik Carpet Cleaning, we are here to help you with the best commercial carpet cleaning service in the industry. You don't need to worry about the intricacies of cleaning your carpets with our professional expertise. We have been cleaning commercial carpets for about 30 years. So you can say we have seen it all and cleaned it all. There is nothing that can surprise us and no situation that we cannot deal with.
How To Take Care of Commercial Carpets
Spotlessness and cleanliness are something that every business, large or small, should strive for. This can be achieved by paying attention to the tiny details in addition to the big picture. The carpet of commercial premises requires a certain amount of upkeep. It is time-consuming, but, it is worth the time, money and effort in the long run.
There are many ways you can keep your carpets in top shape.
First of all, you should have a nighly janitorial service cleaning carpet. If you do not take care of this in-house. These cleaners will take care of regular vacuuming. This helps in removing the dust and dirt from your carpets. Make sure they are instructed to cover all areas including under and behind any furniture and in areas that have little foot traffic as dust and dirt can still accumulate in those areas.
In addition, you can put down some protective entrance mats outside doorways where people enter and leave the building. This will help to reduce dirt from ending up soiled into the carpet. Soil a carpets natural enemy. It damages carpet fibres by attaching to the sticky residue left over for anything that touches the carpet.
These two tips can help the overall maintenance of the carpets in your business. However, this is not a replacement for professional carpet cleaning and maintenance company doing a deep clean. What it will do is help keep your commercial space cleaner in general. By doing this, you will be able to save money on utilities such as heating or cooling because dirt can affect indoor air quality in buildings, causing allergies or asthma problems and may also lead to skin rashes. Remember that most offices, especially those in high rises, do not have windows that open. So the maintenance of the premises is paramount.
How Often Should You Professionally Clean the Carpets of a Business?
This will depend on the type of business. A small office space that sits 20 staff is very different from the office carpet cleaning needed for an office with floorplan that sits 200. And this is again different from a showroom floor or a busy restaurant dining floor full of food stains and coffee spills. The answer is it depends. It can vary from a monthly cleaning to six months. We do not recommend a business to go beyond six between cleanings. Unlike residential areas, commercial properties are more prone to dirt accumulation due to the number of people entering the building.
The Commercial Cleaning Services We Offer
At Dynamik Carpet Cleaning we offer a wide range of services for all types of commercial spaces. Should you need our service for the carpets in your office, hotels, retail store, condo hallways or any other commercial space, we are available 24 hours a day.
What makes us different from the competition is that our professional carpet cleaners can provide you with a customized package to clean and maintain your carpets. When you hire us, there's nothing else to worry about except getting back to work. Our customized solution will meet the unique business needs and budget of your business. Ensure your organization is safe, clean and pristine while keeping your employees satisfied and impressing your visitors.
We have trained professionals who know how best to care for your carpets and what type of cleaning methods will work best with each different type of carpet material. We only use safe products that will not cause any health risks to your workspace.
We offer the following restorative carpet cleaning commercial services:
Hot Water Extraction
Deep Steam Cleaning
Low Moisture Encapsulation
Bonnet Carpet Cleaning
Shampoo Carpet Cleaning
Dry Carpet Cleaning
Organic
24/7 Emergency Services
We also offer flexible scheduling to minimize downtime. We are a commercial cleaning business that understands your needs. We know that cleaning for a commercial setting generally needs to be completed outside of office hours when staff are not in the building. We are happy to work with you in the evenings on weekends. Our carpet cleaning will be finished and your carpets will be dry after six to eight hours. Well before your staff are back to work in Halton Hills, Richmond Hill, Woodbridge or anywhere else.
To find out more about our services please contact us and we will be happy to help with your commercial carpet cleaning needs. And even residential needs such as basement carpet cleaning.