Encapsulation Carpet Cleaning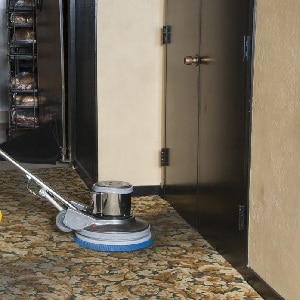 Whether you're the owner of a small business or a property manager that needs to deal with 10,000+ square feet of carpeted office space. Carpet cleaning is something that will be on your agenda. When people think of commercial carpet cleaning they usually think of daily vacuum from a janitorial service or hot water extraction. But did you know there is a middle ground? 
Encapsulation cleaning is another method for cleaning carpets. The term or its shorted wording of "encapping" or even "encap" is a type of carpet cleaning method. Although often misused, since its introduction it has become a popular method for cleaning carpets.
The concept has existed since the late 1990s or early 2000s. Methods like this often use similar equipment to those applied by a "shampoo" machine. Therefore, it has been confused, dismissed, and equated with that method. However, encapsulation uses a rather new and innovative type of chemistry.
An acrylic crystallizing polymer is included in the solution used in the encapsulation cleaning system. Formulas also include cleaning components like surfactants. Those ingredients, in combination, break down the bonds that bind dirt, grease, and grime to carpet fibres.
Usually, an agitation machine is used to work the encapsulation cleaning solution into a carpet. A variety of machine types are used, including Cimex, ORBOT and Windsor. But, there are also others. 
As a result of the agitation, the chemical bond between dirt and fibres is broken. Furthermore, the soil and sticky residue are mixed with the cleaning solution. After drying, the solution crystallizes to form crystals, leaving the residue completely nonstick. It is these polymers that give encapsulation its power. To remove encapsulated particles, vacuuming is necessary.
Encapsulation Carpet Cleaning Service
This is considered to be a very low moisture (VLM) method to clean carpets. The chemicals that are used don't leave any particles on the carpet. Which is perfect for the scheduled maintenance of carpets in commercial and industrial premises that can't be out of action for 8 hours to dry.
This method of cleaning carpets can clean a few thousand square feet of carpet in roughly two hours. And it has been found to significantly reduce bacteria levels down below detectable limits even six months later, providing a maintenance plan is followed.
Well-formulated cleaning agents remove the stickiness in the carpet. Moreover, their chemical makeup prevents them from leaving a sticky residue behind. Most of the best-performing encapsulation products have excess acrylic polymer. Moreover, it provides long-lasting protection against stains from dirt that is tracked onto the carpet. And common office space spills and stains from coffee and food. Furthermore, an encap solution with proper formulations will crystallize. Afterwards, it can easily be removed during routine vacuuming. An excellent encap product will also make a carpet stay cleaner a lot longer.
Our Commercial Encapsulation Carpet Cleaning Process
Even a carpet that is vacuumed nightly after a business has closed for the evening dust and other particles will settle deep into your carpet fibres making them appear dull or worn out. This is where encapsulation comes in handy. Below are the steps we take to effectively clean your carpets.
Dry Soil Removal
In this step, we use a special brush attachment within the encapsulation machine and clean to remove the top 80% or so of soil from your carpet. We don't add the solution before the brush vacuuming is done. This will make the rest of the work easy. That is to remove the dirt that's deeply ingrained into the carpet.
Soil Suspension
From there, we add the solution to the scrubber pads we are using, and then work it over the carpet at a moderate pace. We just need to pass over the carpet once while applying the solution. We are also very careful to avoid over-wet the carpet so as not to leave any liquid behind.
Extraction
To completely remove the dirt and any other particles suspended in the carpet, we follow up by extracting excess moisture. You don't want any stains or foul smells in the future that can be produced from a wet carpet that never dried properly.
Finishing & Drying
We finish off by applying a professional-grade deodorizer and then complete the final steps of our process. Which includes air-punching to remove any additional moisture from your carpets. Then we do a final pass with our drying machine, if needed, to help the carpet dry faster before vacuuming again for good measure.
Why Do We Recommend Encapsulation Carpet Cleaning for a Commercial Environment?
We cannot prevent dirt from entering an office or other commercial space. An endless amount of people can walk through even a small-sized commercial area each hour. Regardless of how it got here, we know that dirt is not good for our carpets or our health.
As a result, we recommend encapsulation carpet cleaning. It's used best when you have stains and other signs of dirt that are deeply etched into the fibres. It is a much better option than using spot cleaners because it will encapsulate all this deep-set dirt, removing them from your carpet for good.
At Dynamik, we have an active cleaning solution that leaves behind a clear protective coating on each fibre to prevent future soil penetration. This coating then gets removed through vacuuming however the carpet will remain protected for a long time. Moreover, this process is faster, more efficient and also less expensive than other methods of cleaning carpets that need deep cleaning. Encapsulation is a more eco-friendly and safe way to clean carpets, which can be used on any type of carpeting whether it's a natural fibre like wool or synthetic fibres that are made from polyester. We do not use any solvents, so it's considered safe for you to walk around as soon as we are done cleaning.
Benefits of Encapsulation Carpet Cleaning
The encapsulation method makes it easier for business owners and office managers to maintain their carpets long-term. Encapsulation cleaning also has many other benefits, which will be explained in detail below.
Fast Dry Time
The low moisture encapsulation cleaning method we have here at Dynamik allows the carpet to dry within about 20 minutes after the application of the product, meaning your offices will experience almost no downtime if your only option is for the cleaning to take place during business hours.
No Wicking or Resoiling
In addition to faster dry times, less water means no wicking or re-soiling. Wicking occurs after carpet stains are treated with cleaners and water; as the water evaporates, soils remain at the bottom of the carpet fibres. It then travels up to the visible surface of the carpet and makes the stain reappear. Encapsulation helps to avoid this problem by not oversaturating the carpet fibres and trapping all the soil within the polymers that are then vacuumed away.
Improved Carpet Appearance
Perhaps the most significant benefit of encapsulation cleaning is the improvement in carpet appearance and a longer life cycle for your facilities' carpets. Regularly removing embedded soils prevents the buildup of sticky residues that can attract more dirt and make your carpets look visibly soiled.
The brush on our machines not only agitates the encapsulation cleaning agents deep into the carpet but will also lift and open the pile at the same time. This helps your carpets look their best for the lowest cost across large commercial spaces. Once this step has been completed you will not need another clean for at least a few months. This is because the encap process prevents dirt from sticking or coming back into contact with your carpeting. As long as a nightly cleaning team performs a regular vacuum the result is cleaner carpets and no need for hot water extraction.
Good Encapsulation Carpet Cleaning Versus Bad
Encapsulation cleaning depends on the quality of the solution itself, and the difference between what can be achieved with a good product, versus a bad one, is very significant. There's a test that you can do to see if the product is good or bad. Take a couple of drops of an encap product, pour it on a glass and leave it overnight. A good product will form perfect crystals in the morning while a bad one will stay in a liquid form.
Another tip. Once encapsulation work has been completed you can see if a good job has been completed by pouring a small amount of water on the carpet. If it beads up, then this means that there was no penetration into the carpet fibres.
With Dynamik, It's All About the Results
This process can be completed by professionals such as us, Dynamik, or with an encapsulation carpet cleaner machine on your own time depending on what you feel more comfortable doing. But without the correct training, expensive encap machines can cost a few thousand dollars and years of experience. It's simply better to hire a professional. Our commitment is not only to achieve the best possible results for your business but to also make it an easy and stress-free experience.
Our technicians at Dynamik are highly trained and experienced, so you can rest assured that we will get it right the first time. Whether you're dealing with a stubborn stain, freshening up your carpets for an upcoming event, or doing a quarterly cleaning our friendly technicians are happy to assist you in getting your office or other commercial space looking its best!
Encapsulation works, period! The benefits are second to none. So call to book an appointment.
We've cleaned thousands of carpets here at Dynamik. Some say that encap cleaning just moves surface dirt around but never removes it. Over the years we have determined that the majority of dirt and grime isn't encased in a capsule or crystal. Instead, well-formulated encap cleaning solutions help remove the dirt from a carpet. The scrubber we use at Dynamik with our encap process along with a good pre-vacuum is the best you will get.
It doesn't matter whether you have a new carpet or an old one. We will make it look as good as new. We take our time and do the job right. We want to be sure that your business is left cleaner than when we arrived. With our process, we achieve exactly that. We also offer bonnet carpet cleaning. A similar process to encap, but, different at the same time.
Thornhill, Ajax, Scarborough and Oakville as a few of our popular areas for this service. But we go all over. If you're within 75km of Toronto we can visit you!