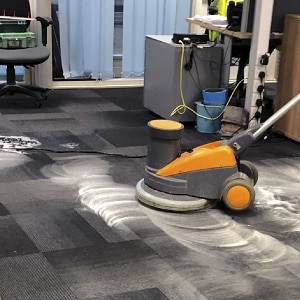 The most common workplace flooring you'll find is carpet. Unfortunately, it also gets high traffic and becomes the dirtiest type of flooring available due to its ability to act as a magnet sucking everything that touches it. Dust and allergens from footsteps, food crumbs, hair, spilt coffee and other drinks and countless other things that get on an office carpet. This is exactly why a business needs to take care of the carpets with regular office carpet cleaning.
Every type of office needs commercial carpet cleaning. It is not uncommon for large open plan offices that sit 100 plus staff to be full of invisible dirt and dust embedded in the carpet. This dust can then affect the air conditioning vents and other spaces. And it's not just the main office space. Meeting rooms, hallways, the reception and waiting area. Any area that gets a lot of foot traffic needs to be looked after. A carpet cleaning service is not only needed for large offices but in smaller offices also. From a small startup office that seats 10 people. Or a mid-sized call center sitting 20 staff. If it's an office space it needs carpet cleaning.
At Dynamik, we office carpet cleaning that will make sure your office carpets are perfectly presentable and welcoming.
Office Carpet Cleaning Services
To ensure your office carpets maintain their durability and longevity you must take good care of them. A business will prematurely incur a very hefty cost if the carpet needs to be replaced. This can be avoided by regularly cleaning carpets. We follow the below process when you hire Dynamik for office carpet cleaning to ensure that your office carpet stays in tip-top condition.
Step I – Vacuuming
Vacuuming is always our first step. We do this to remove the big particles of dirt and debris that hide in the deep crevices of your carpets. We use industrial-grade vacuum cleaners that have some serious suction power. This type of vacuum is much more powerful than the average store-bought vacuum.
Step II – Carpet Cleaning
The next step is the actual commercial carpet cleaning. What cleaning solution do we use? Well, there are several methods we employ to clean your office carpets at Dynamik such as steam cleaning, encapsulation, hot water extraction or even bonnet carpet cleaning. The commercial cleaning methods that we use will depend on certain factors such as the size of the area to be cleaned. How quickly your staff will return to work. Some of our methods are low moisture and fast drying and some are wet methods with a longer dry time. The type of ventilation available in the office and a few other factors. We highly recommend you click the links above if you want to read about the process in more detail.
Step III – Sanitizing & Deodorizing
Sanitizing the carpets completed as the last step with a product that has been designed to remove or destroy bacteria, viruses, fungi, mildew spores and other organisms. Deodorizing will also take place if we remove bad stains that were producing odours.
Benefits of Professional Office Carpet Cleaning
While regular vacuuming will help to keep your carpets clean, it cannot break down a deeply embedded stain. While the everyday vacuums that your nightly cleaning team is likely using are good enough to keep the carpet looking fresh. Professional carpet cleaning is also needed.
At Dynamik, we will use industrial-grade machines that can deliver real results. We have the tools, equipment and experience needed to refresh your office's carpet and have it ready for when your staff return for their next shift. Professional carpet cleaning services that specialize in offices, such as Dynamik, not only makes your carpets look better but also leads to a healthier workspace. While aesthetics are important. So is maintaining a healthy workspace so your staff don't get sick.
Improved Productivity
As a business owner, you want the best for your employees. A safe and clean workplace boosts employee morale. Having clean carpets in your office can also prevent your workers from getting sick.
Working in a dirty environment is the opposite. It's a morale killer. If you want to motivate your employees, you need to invest in office and commercial carpet cleaning services. Think about it for a moment. If your employees walk past dirty stains on the carpet and soiled patches in the hallways will they feel good? No, they won't. They know that you are not looking after them and are willing to compromise on workplace cleanliness. They won't be motivated.
This is more of a subliminal and mental issue. Clean carpets will help your business. While dirty carpets will damage it. But, none of your staff will likely ever raise the issue.
Extends the Life of Your Carpet
Since carpets see a lot of foot traffic, dust, dirt, allergens, and other debris become ingrained into the fibres. In time, the accumulation of dirt leaves carpet fibres weakened and causes them to split. With our regular and professional cleaning for your office carpets, all of the built-up debris is gently removed, effectively protecting your carpet and extending its lifespan.
Enhances the Look of the Office
Have you ever seen a carpet that looks aged and worn? It doesn't look too good, does it? While the carpet might still be doing its job as a floor covering it's not very aesthetically pleasing. Looking after your office carpet keeps it looking good. Fresh, bright and clean just like a carpet should
Improves the Health of Your Business
Due to the amount of foot traffic, carpets are exposed to a lot of harmful particles. Over time, carpet fibres become filled with allergens, dust mites, bacteria, contaminants, and more. These particles can cause respiratory problems, allergic reactions, and other negative health issues. Staff with asthma and allergies could be getting triggered in your office. This is easily resolved with carpet cleaning.
Removal of Dust Mites
Carpets can have a dust mite infestation and you wouldn't even know it. Dust mites leave behind feces and body fragments, which are allergens that can irritate those who breathe them in, anyone in your office. Professional cleaning of your carpet eliminated this problem as we are trained to spot dust mites and remove them. If it's through steam cleaning due to the heat or a proper dut mite treatment.
Prevention of Mold Growth
In humid environments, carpets are at a high risk of mold growth. Any excess moisture in carpets that are not properly dried invites mold and mildew growth. As we clean we identify any areas that need mold treatment.
Removal of Dirt and Bacteria
While you may think vacuuming takes care of all dirt and bacteria, it only takes care of the surface-level debris. At Dynamik, we remove any trapped dirt and fully sanitize your carpet. By completely sanitizing your carpet and removing harmful buildup, you are creating a healthier environment for your business.
We can get you office looking amazing in Milton, Uxbridge, Brampton, York or anywhere in the GTA.
Office Carpet Cleaning Maintenance
It is important to maintain your office carpet after you get professional carpet cleaning. This is generally a three-month period as we recommend office carpet cleaning every 90 days.
Tip #1 – Vacuuming
Regular vacuuming is one of the most effective and cost-effective ways of removing dirt from your carpets. Be sure that you are using the right vacuum and going slowly over the carpet in both forward-backward and side-to-side directions. Areas like general office areas or corridors should ideally be vacuumed daily for large offices and at least 3-4 times a week for smaller offices. Lower traffic areas like conference rooms and executive offices can usually be done once a week.
Tip #2 – Spot Cleaning
The sooner you can treat a stain or spot, the better your chances of successfully removing it. It is a good idea to have someone regularly check your carpeting for any stains to spot clean them. Then call us so we can come out to your business to remove them.
The team at Dynamik has extensive experience in office carpets and comes. We use top-shelf cleaning equipment and ensure exceptional cleaning results. With 30 years of industry experience as a carpet cleaning company, we are committed to making your office carpets look amazing. Book an appointment now for your next office carpet cleaning needs. Call us today! We also offer other commercial services such as hotel carpet cleaning.