Hot Water Extraction Carpet Cleaning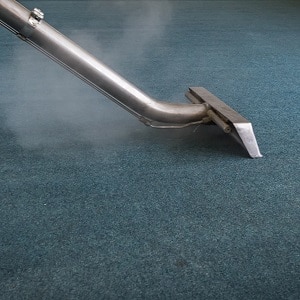 Despite a world filled with uncertainty, we can probably all agree on the fact that carpets get dirty rather quickly. Sometimes, they get really dirty, and simple cleaning is just not sufficient. The dirtier your carpet, the greater the chances of getting sick from the bacteria.
Dynamik has been providing hot water extraction carpet cleaning since 1992. This technique isn't new to us by any means. Through the years, we have perfected the method and have cleaned thousands of dirty carpets in many Canadian homes and businesses. We offer affordable rates for hot water extraction while giving you a guarantee that our services will make your carpets look amazing while keeping your children and pets perfectly safe.
The Hot water extraction method can be thought of as a thorough cleaning. It is similar to a powerful tidal wave hitting a surface. To remove stubborn dirt and grime that collects on the surface of carpets, internal pressure in our machines launches hot water into the carpet in a very powerful manner while extracting it almost instantly.
By doing this, you can remove the top layer of dirt resting in your carpet that resisted being removed by a vacuum. The hot water that's added into the mix helps the surface dirt to considerably loosened up making it easier to remove.
The power of the pressure and the chemicals in the detergent help remove the stubborn dirt and grime that's deeply embedded at the bottom of the carpet fibres. Making it each for the extraction part of the process to suck it up. To perform hot water extraction cleaning, high-powered and professional-level equipment must be used. The hot water extraction process requires strong equipment to yield the best results compared to standard carpet cleaning.
Why Do We Recommend Hot Water Extraction Carpet Cleaning for Your Carpets?
As experts, we highly recommended using the hot water extraction carpet cleaning method for the following reasons.
It Uses Hot Water
A verified statistic indicates that every 18-degree jump in temperature above 118 degrees doubled the effectiveness of cleaning from a cleaning machine. So to do some simple maths here. When the temperature of the water is 136 degrees, it will clean twice as well as water with a 118-degree temperature, and when the temperature is 154 degrees, it will clean four times as well as water with a 118-degree temperature, and so on. Dynamik operates a cleaning machine with water temperatures between 180 and 220 degrees. No steam is used in the cleaning process. Except for some residual steam that might escape from the use of hot water.
Sprays High-Temperature Solution Into Your Carpet
Using high-pressure hot water extraction, we spray cleaning solution into your carpet at high temperatures. By doing so, you break down all the dirt, bacteria, foreign chemicals, allergens, dust mite droppings, pollen and any other foreign matter in the carpet. The carpet is effortlessly cleaned and refreshed.
Also, when using hot water extraction, the cleaning solution we use on your carpets won't leave behind any residues or soapy film dirt could stick to. Additionally, the process removes odours from pets stains, cigarettes, cooking oil stains, urine stains, old spilled drink stains and anything else from the carpet.
We Use Strong Suction To Extract Dirt for a Deeper Cleaning
The equipment we have uses strong suction to extract the dirt, soil, chemicals, bacteria, pollens, and other residues from your carpet.
You are wrong when you think your carpets are free from dust and dirt. The reason why we recommend hot water extraction carpet cleaning is because it is capable of cleaning your carpets extremely thoroughly and penetrates deep into the fabric. Unclean carpets will not last as long. Besides cleaning the inside surfaces of the carpet, this method is also highly effective at removing spots, stains and odours.
If you have quality and expensive carpets and you want them to look good, consider hiring Dynamik to make them look amazing. In other words, having your carpet cleaned by skilled, qualified and certified cleaners every six months to a year is key to keeping them healthy and looking beautiful. Clean carpets also help provide an extended lifetime of your carpet.
Non-Toxic and Environment Friendly
Our hot water extraction carpet cleaning method does not make use of any toxic cleaning agents, it's a more natural process. Strong chemicals can cause harm to your family, friends or even to your pets. Meanwhile, here at the Dynamik company, we offer an eco-friendly way of making your carpets free of dust, allergens and germs without risking the health of our clients. The high temperature of the water we use disinfects the carpets and is the best choice for allergies sufferers overall.
Residue-Free Professional Carpet Cleaning
Other cleaning methods can leave a residue on your carpet that can attract new dirt. It can sometimes be difficult to eliminate the strong smell of these cleaning agents. Hot water extraction is not simply a more effective method than outdated methods, it also leaves no residue behind in the carpet.
What Are the Disadvantages of Hot Water Extraction if Not Done Professionally?
Hot water extraction carpet cleaning is more time-consuming as it involves saturating the carpet with water and extracting it. Since the carpet fibres become saturated with water during the extraction process, hot water extraction leaves carpets wetter than other methods, which can result in mould growth and foul odours if they are not dried out properly.
Another disadvantage is that the process is not as gentle on the carpet fibres as other cleaning methods. So doing it yourself may result in damage or worse, you may need to replace the carpets. And this could cost you a lot of money. In conclusion, hot water extraction carpet cleaning has no real disadvantage if it's done by professionals like us. Dynamik has perfected this method of cleaning over the last 30 years. We make sure that your carpet is cleaned by professionals safely and dried out properly.
How to Maintain Your Carpets After Hot Water Extraction
Unfortunately. carpets are prone to accumulate dirt. Dirt loves to stick to the carpet like a magnet. Here are some simple tips you can use to help with the removal of foreign matter and keep your carpet clean, dirt-free and fresh after you get them professionally cleaned.
Adding Protection to Your Carpet
You can add protection to your carpet by using rugs in areas with high traffic, such as main hallways, living rooms, or stairways. Rugs are easily accessible, can be replaced or moved to another room if necessary. Another way to protect your carpet is to add a plastic runner where it meets tile or wood flooring. When people move from one type of flooring to another, floor runners help to prevent the carpet from lifting or wearing down at the edges.
Regular Vacuum Cleaning
Carpets tend to attract dust and debris even if you take precautions. Regular vacuuming is an excellent method for keeping dust and debris off of your carpet. Vacuum your carpet at least twice per week. If you notice anything on your carpet that shouldn't be there, vacuum it as soon as possible. You should also make sure you are vacuuming properly. Start vacuuming in one direction and then vacuum perpendicularly to the previous direction. Be sure to clean all the nooks and crannies in your carpeted area to make sure you are picking up everything that could be stuck in your carpet.
Quickly Cleaning Spills
The quicker you get to a spill, the easier it will be to clean up and the better the odds of it coming out completely. If you let a spill set into the carpet to become an actual stain then the solution is to hire a professional company to perform hot water extraction.
Regular Deep Cleaning
Have your carpet professionally cleaned at least once per year with hot water extraction carpet cleaning to remove any stain, dirt and odour from your carpets. It will be very beneficial to keeping your carpet looking clean and new. Having a professional come to your home with professional-grade equipment will help to reach deep down in your carpet and give it a thorough clean. Moreso, it will help you restore your carpets longer.
As you're dealing with heat-sensitive substances like carpet, it's important to use a trusted company that puts customers first to take care of the job at hand.
At Dynamik, we are committed to providing exceptional and friendly customer service while committing to excellence in our field at an affordable price. Our team of professionals can give your carpets the extra attention they need with hot water extraction cleaning.
We have a team of highly trained and experienced hot water extraction cleaners working around the clock to provide this highly effective and efficient cleaning method for your carpets. We stand by this process and will do everything in our power to ensure we can resolve the issue in one cleaning session using hot water extraction.
Call us for a commitment-free quote. Our most popular areas for this service are Port Perry, Oakville, Stouffville and Scarborough. But, we go all over!
We also offer commercial services. Read about one of our commercial services – encapsulation carpet cleaning.