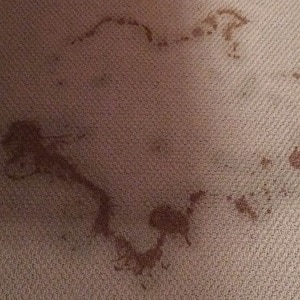 Having pets can be a blessing and bring a vast amount of happiness into your life. But are you not tired of cleaning one pet stain after another? Are you worried about the next accident and the smell it might leave behind on your carpet? You might wanna try hiring a professional carpet cleaner. Dynamik has you covered.
Keeping up with cleanliness issues like pet stains can be difficult when many people live in the same home. Cats, dogs and other animals are bound to eventually have accidents, especially if they are not properly toilet trained. Even then accidents can still happen and the smell is unpleasant, to say the least.
Pet stains can build up on your carpets, rugs, and furniture over time. The most common types are urine and feces, both of which have a strong odour. They can leave permanent damages if not dealt with. This makes it hard to enjoy your time at home if there is a lingering odour.
You cannot hide the fact that animals tend to urinate or leave poop in the same spot because they want some sense of familiarity when relieving themselves. It's very important to deal with a pet stain accident ASAP by using the correct cleaning solution before your pets do it in the same spot again.
Thankfully, there is a solution to this mess. Hiring a professional!
Pet Stains Removal Service
A great option is to hire a professional that has years of experience in dealing with these types of stains, especially if you want them gone as quickly as possible. Dynamik has been in the industry for over 30 years now. And, we have helped thousands of homeowners with stain emergencies such as dog urine. Be it an accident that recently took place or an old pet stain that you used a store-bought odor eliminator with that still smells years later. We can help you finish off the stain and odor cleaning.
We understand that some homeowners are hesitant to get a cleaning service because they feel like it will be too expensive. But, rest assured that the cost is small in comparison to replacing an entire carpet that was left too long with pet odors such as dog urine. Some homeowners are even hesitant to book an appointment as they've tried in the past and it didn't work. They're worried about spending more money on something that may not work in their mind. We understand. We are also homeowners with pets. How are we different? Well, Dynamik provides affordable yet quality services for our clients and we have done so for 30 years. We can safely handle all kinds of animal stains. Our pet stain removal service is top-notch. And while we can't guarantee that every stain will be removed, we have a huge success rate.
We use enzymatic cleaners with a powerful carpet steam cleaning that is safe for pets and children. This way you can be confident that any old smells or set-in stains will be permanently removed. And you won't have to worry about them coming back. Unless of course, your pet pees in the same area. We know what type of professional strength but pet-friendly chemicals to remove a stain depending on how bad it is and how it's been there based on the type of surface we are working on. Plus we have the right equipment and tools for the job. Different fabrics require different methods, and we cover all of this. With years of experience, we know how to deal with any pet stain without using harmful chemicals.
Pet Stain Removal for Carpets
As much as we would like to tell you that a DIY solution works. You can't simply use paper towels to dab or blot dry a pet urine stain. Pet stains that take place on a carpet can end up deeply embedded in the carpet fibre and even the padding underneath. It won't take long for a bad-smelling odour to develop. And depending on how much pet urine soaked into the carpet there is a chance that mold could start to develop. Then you have an even bigger problem on your hands. DIY steam cleaners for the home in combination with an enzymatic cleaner may work to get a pet stain removed as long as you can soak up all the excess liquid and get the stain completely dry. But, even then you won't get it all out. That's when professional services which specialize in pet stain removal come in handy.
We have a deep-cleaning process that removes stains and odours using cleaning chemicals that are pet-friendly. And while we do this we are freshening your carpet at the same time. We use powerful cleaning solutions to remove any embedded urine and feces. Then we rinse the carpet thoroughly with a special sanitizer. This helps to kill any leftover bacteria and germs.
Pet Stain Removal for Upholstery
We also work on upholstery such as sofas and chairs. A similar method to carpets is used to remove pet stains that take place on upholstery or furniture. The cleaning process for soft surfaces like upholstered furniture is different as furniture is generally more delicate than carpet. Different fabrics and materials require a slightly different process to cleaning a pet stain from a traditional wool carpet.
We still use a deep cleaning technique but the tools are much smaller and specifically designed to clean upholstery. This allows us to get into any difficult-to-reach spots where the stain might have occurred.
We know how difficult it can be when your home smells of pet urine or vomit. But, don't worry as we can help. Our team will remove any upholstery stains you're dealing with.
We understand how important your furniture is. This is why we strive for nothing less than perfection. Our technicians are fully trained and each team member has removed hundreds of pet stains from upholstery in their time with us. When we are done, you won't even know there was an issue with your upholstery in the first place.
Pet Stain Removal for Rugs
Removing pet stains on rugs is not as easy as it seems. Rugs are generally several layers deep so they require extra care and a different type of cleaning method that deeply penetrates the fibres to eradicate the animal stain.
We can deal with all kinds of stains your pet may leave on a rug. No matter the material type, be it a typical wool or cotton rug. Or if it's more a delicate rug such as a Persian or silk.
Cleaning a stained rug is very important. It's also a good idea to have your rugs cleaned at least yearly if you live with pets, just to make sure. There may be a hidden stain that your furry friend accidentally made that's hard to spot without a trained eye.
To properly take care of your pets' needs, you will need to provide them with a clean living space. If possible keep their litter boxes in the same place. Even allow them to sleep in a spare bathroom at night time. This way they associate the bathroom with their urine scent mark. They will know this is 'their space'.
A dirty environment such as an unclean litter box can lead a pet towards finding another area of your home to use as a toilet as they feel it's a clean space to do their thing. A pet cannot tell you it's time for you to clean their litter box. And this is exactly why accidents can happen. What you can control is keeping their litter box clean. And, if you see them trying to use the bathroom elsewhere. Pick them up and take them to the litter box to teach them.
This will go a long way in preventing future stains. The simple task of teaching your pets where the bathroom is will help keep your home free of pet accidents.
Hire Dynamik for Pet Stain Removal
We deal with pet stains daily. We have a team of professionals at the ready to make your carpets, rugs and upholstery look amazing once again if the unfortunate happens and your pet had an accident. We don't use harsh chemicals, everything is pet-friendly.
We get it, accidents happen, the occasional stain and odor are part of life if you share your house and personal space with a cat, dog or other animals. We've seen it all, from a small kitten or puppy peeing on the carpet or sofa that's not been fully toilet trained. To old carpets covered in stains that were neglected and never taken care of. You don't need to worry because we're equipped with state-of-the-art equipment and years of experience.
The best part of it is that our prices aren't expensive. We don't have the cheapest prices. But, we don't claim to have them either. Why? As we don't compromise on quality. But we are still a very affordable cleaning service.
Let us do all the dirty work on the stained area for you, literally. So you only need to worry about cuddling your furry friend and keeping up with a vacuum routine to deal with their shedding hair. Contact us today and get started on a better and cleaner tomorrow for pet stains or others such as regular spot, stain and odour removal.
We can help you in Vaughan, Mississauga, Courtice and even Whitchurch-Stouffville. But we will come to you all across the GTA.