Sectional Furniture Cleaning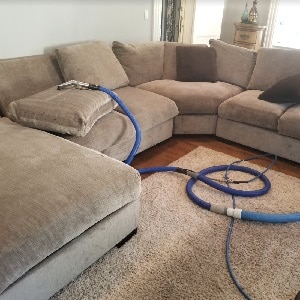 Sectional furniture is a popular choice for many people. It's perfect for entertaining guests, lounging, and playing games. But, at the end of the day, a sectional is upholstered furniture that can get dirty very easily. A professional cleaner like Dynamik can help remove dirt and stains from your sectional without damaging any of the fabric or foam filling inside. We have been in the upholstery cleaning business for over 30 years and we can get your sectional furniture looking brand new.
We will deep-clean all stains, ground in dirt, spills, pet dander and any other issues your sectional is having. We'll not only clean it but also deodorize it with our powerful, safe and eco-friendly cleaning solutions.
Sectional Furniture Cleaning Services
A sectional sofa or an L-shaped couch is one of the most versatile pieces of furniture. The item is available in a wide range of sizes and shapes, so you can choose the perfect fit for your home. But, it needs to be cleaned evenly, otherwise, you can end up with a pretty dirty sectional if it's not taken care of properly.
Professionally cleaning a small sectional sofa generally takes less than an hour but larger models can take much longer. This is our cleaning process:
Step #1 – Inspection
We inspect the fabric and look for any signs of permanent damage which may need special attention such as old stains.
Step #2 – Vacuuming
We vacuum the sectional, especially the seams and crevices where dirt loves to accumulate.
Step #3 – Pre-Treatment
We apply a pre-treatment spray to the entire sectional to help lift out the dirt and stains. Any stains get an additional pre-treatment for our cleaning process to be even more effective.
Step #4 – Steam Cleaning
We use a dry steam process to clean the furniture. This is done by applying a steam solution with an upholstery brush. This process extracts soil from deep within the fabric while at the same time removing any odours that are left behind on the sectional.
Step #5 – Drying
After we've steamed your furniture our technicians will now help the sectional furniture dry by using a high-powered blower if they deem it necessary. For example, if it's in the middle of winter or the sectional is in an area without natural airflow.
Step #6 – Protection and Sanitization (Optional)
We will protect your furniture after cleaning is complete by applying an upholstery protector , which acts as a protective barrier on the fabric and prevents future stains from setting in. Plus, we sanitize your sectional with a powerful disinfectant solution, which kills bacteria and germs that may be left behind. Please do note that this is an additional paid service.
Benefits of Cleaning Your Sectional
With the help of Dynamik, you can restore your sectional to look beautiful and brand new just like the condition it was in when you saw it at the store the first time. To highlight the advantages of scheduling cleaning services for your sectional, here is a closer look at the benefits of professional upholstery cleaning.
Extend the Lifespan of Your Sectional
The most significant benefit that you will receive from professional sectional cleaning services is that your furniture will last longer. Whenever your sectionals are covered in dirt and stains, it's causing long-term damage. However, with the amazing cleaning power that is offered by our cleaning technicians, you can restore your furniture to like-new condition.
Improve the Indoor Air Quality of Your Home
Professional upholstery cleaning for your sectional can not only prolong the life of your furniture but can also improve your indoor air quality. The material of upholstered sectionals can naturally collect dust mites, germs and other nasty particles. These particles can cause health problems when they enter the air in your home. Ultimately contaminating the air in your home. It's not just about you and your family breathing fresh smelling air. It's more about the air staying clean and healthy. Contaminated air can cause health issues.
Remove Unsightly Spots and Stains
Your sectional may have a stain from red wine or you may have noticed other spots on your furniture. If so, you may want to consider scheduling a sectional cleaning. With the advanced cleaning technology that we provide, we'll be able to eliminate any unsightly stains on your furniture. After our cleaning has been completed, you will be amazed at the beautiful look of your sectional.
Basic Sectional Care Tips
Sectionals should be included in your regular household cleaning routine. This can prevent short-term problems from turning into long-term damage. Below are some general caring tips for most sectionals.
Vacuum Regularly
It is generally recommended that upholstered sectionals should be vacuumed weekly to remove dirt and dust before they become embedded in the fabric. Cleaning the cushions of the sectional with a vacuum is an easy and efficient way to remove loose dust and dirt. To avoid snagging or damaging the fabric, move the brush attachment gently in the direction of the pattern.
Create Proper Ventilation
The fabric of a sectional is also prone to clinging to odours spread by airborne pollutants from cooking, smoking, pets and other smells. To prevent damaging the upholstery of your sectional, it is necessary to provide proper ventilation.
Promptly Attend to Spills and Other Accidents
Grime or light marks can be quickly removed with a damp cloth or wiped off. Spills and stains should be dealt with as soon as possible. The sooner you catch a spill, the less damage it will do to the fabric. For liquid spills on your sectionals, dab with a dry cloth gently to remove the liquid. Don't rub the stain, as it will push it further into the fabric. If a spill does cause a stain you want to use a fabric cleaner.
Use Fabric Cleaner on Your Sectional
If a spill ends up as a stain you can use a fabric cleaner. Make sure the fabric cleaner is specifically designed to be used with the material your sectional is made from. After cleaning the sectional let it dry completely before using it again.
Call a Professional
The best way to keep your sectional looking great is to have it cleaned at least once every year by a professional such as Dynamik. If you have been having trouble removing a stain, spot, odour or another problem, a professional sectional cleaning service is worth considering.
Pick Dynamik for Your Sectional Cleaning
Sectional furniture is a great addition to any home. But, with that comfort comes the responsibility to keep it clean. Or the sectional will start accumulating dirt that is not good for you or your family's health. At Dynamik, we'll take care of your sectional furniture with our professional cleaning services. Our team specializes in deep cleaning sectionals so you can have peace of mind that everything will be done to perfection.
Our experience spans over the last 30 years. We are foremost experts in sectional furniture cleaning. We are not just some run-of-the-mill upholstery cleaning company. We specialize in sectionals. We have over 10,000 sectional cleanings under our belt. That's a few hundred per year for the last 3 decades. If you want the best company to make your sectional look amazing, book with Dynamik today.
We also offer a mattress cleaning service and general residential upholstery cleaning service. We offer our services in all over the rest the GTA including suburbs such as Richmond Hill and even all the way out to Uxbridge.