Residential Upholstery Cleaning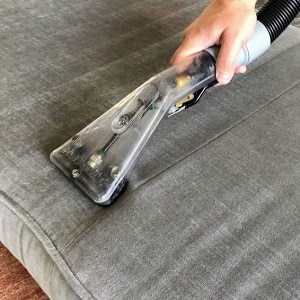 Your home is your safe haven. It's a place where you can relax. You shouldn't only want it to be clean, attractive, and welcoming. You deserve it. Making sure your upholstered furniture is well kept and clean will help keep your home looking immaculate.
Dynamik provides professional residential upholstery cleaning services from dining room chairs to a beloved couch or any type of upholstered fabrics. Our furniture cleaning service is designed to make your home more beautiful and comfortable for you and your loved ones, while also extending the life of each piece of furniture in your residence.
Residential Upholstered Furniture Cleaning Services
Furniture needs to be kept clean, which can be a challenge in a busy household. Dynamik is just one phone call away and we offer the following residential upholstery cleaning process:
Stain Removal
We know that stains are inevitable, and we also know that it can be difficult to remove tough stains. Dynamik offers expert stain removal services which use a special upholstery cleaner that's designed specifically for the type of upholstery material you own and will not damage your furniture in any way.
Deep Cleaning
When it comes to residential upholstery cleaning services, Dynamik has the expertise to clean virtually every type of upholstery fabric. That includes the ones that are stubborn and difficult to clean. Our technicians carefully inspect the upholstery for stains and spots before selecting the right deep clean method best suited to the material type such as hot water extraction or steam cleaning. We provide non-residue solutions with the safest, most effective cleaning available to extend the life of your investment.
Foam Dry Cleaning
This process uses a high-velocity, dry foam that is free of harsh chemicals to loosen the soil and stains on your upholstery. The liquid is then vacuumed away from the surface before we use our powerful extraction equipment to extract any remaining moisture that's left in the fabric.
Odour Removal
We offer professional services for removing odours from your home with our powerful odour-eliminating solutions. We use natural products that are safe for humans and pets which remove bad odours without leaving behind any harmful residue or chemical smells. It is important to eliminate bad odour as it can make your home feel unpleasant to live in. Additionally, bad odours cause many health problems from bacteria buildup such as increased fatigue, difficulty concentrating, sleep disorders, headaches, nausea, depression, and even itchy eyes. So it's best to eliminate any bad odour from your home's upholstery.
Sanitization & Deodorizer Services
A home with clean and fresh upholstery is a welcoming place to live. We can neutralize your upholstery with a special sanitizer. A disinfectant is applied to kill all bacteria, viruses and pet smells. We use a pH-balanced, non-allergenic formula that won't cause any irritation.
Fabric Protection
You want your upholstery to look clean for as long as possible. Our stain-resistant protective coating service will keep the dirt away from your upholstery adding a protective layer to prevent future stains and spots. So that it looks new, for longer.
Insurance & Warranty Cleaning
We understand the importance of upholstery protection for furniture items like sofas, chairs, drapes, and loveseats that are insured or under warranty. We provide insurance and warranty cleaning for furniture that you are making a claim on or for items that require their annual clean. We even have a special sectional furniture cleaning service for expensive sectionals.
Mattress Cleaning
We offer a professional mattress cleaning service that helps to remove stains, dust mites, allergens, bacteria, spots and more to ensure a healthy sleep environment. We use a special mattress cleaning formula to make your mattress clean, healthy and smell amazing.
Importance of Regular Residential Upholstery Cleaning
Buying upholstery can be expensive. Take care of it by cleaning it regularly to prevent future damages. Upholstery cleaning serves many purposes. A fabric can absorb odours from pets, smoke, food, people, and other sources. Likewise, upholstery tends to collect dust, dirt, bacteria, and other potentially harmful particles. As time passes, upholstery on couches, chairs, loveseats, and other seating surfaces can become dirty or stained. Not only seating but all kinds of upholstery. Below are some of the reasons why you need to clean the furniture in your home.
Maintains Appearance
Have you ever seen furniture or upholstery that appeared so old and worn out that you wanted to avoid it? That can be remedied by regular cleaning. The reality is, if you do not regularly clean your upholstery it will look worn down as time goes by. Fabrics break down as they become more stained and dirty. Basic cleaning helps to avoid this and actually helps in restoring colour.
Air Quality
Dirt and other pollutants can stick to upholstery and cause the airflow in your home to become contaminated. This poses a threat to one's health. That stale and musty smell furniture gives off is a dead giveaway it needs to be cleaned. Maintaining a regular cleaning schedule for your home's upholstery is the only way to ensure that contaminants and other harmful substances are completely removed. You can't have clean air quality in your home if the furniture is dirty.
Cost-Effective
Don't want to shorten the lifespan of your furniture and home items prematurely? Cleaning regularly helps prevent this. As mentioned above, dirty and soiled fabric breaks down over time. Professional cleaning once per year is a cost-effective solution in the long run compared to replacing all the expensive upholstery in your home. This is not something that people think about, but it's no different from any other type of maintenance.
Longevity
The regular maintenance of your upholstery can go a long way towards keeping it functional for years to come. Sometimes you get attached to particular pieces of furniture. However, when they are looking prematurely broken or neglected, you are forced to get new furniture for your home. By cleaning the furniture regularly, you will prevent some of the greatest enemies the furniture may encounter, like dirt, dust, stains or spots which break down the upholstery fabric over time. The correct equipment and care through a professional upholstery cleaning service can extend the life of your furniture. Especially those pieces that mean a lot to you.
Health and Wellbeing
When pathogens and bacteria from dirt and grime are not regularly cleaned, they can accumulate to levels that can cause actual health risks to your family. Not only that, but deep-seated bacteria often emit unpleasant odours. When you cough and sneeze in your home, it can very well be a result of dirty upholstery. And a strong indication it might be time to get your upholstery cleaned.
Simple Residential Upholstery Care Tips
As a homeowner, you can also perform what you might call your own DIY maintenance services. Stick to the following tips to help maintain your upholstery.
Make sure that your home's ventilation system is cleaned regularly.
If you smoke in your home. Do it outside. Smoke odours can be some of the hardest to remove from upholstery.
Use kitchen exhaust fans when cooking to remove food odours. This prevents the odours from being absorbed into texture furniture.
Clean spills, spots, stains, and pet accidents as soon as they happen. So they don't have the opportunity to seep into any upholstery.
If you don't have the time for frequent cleaning consider utilizing a residential upholstery cleaning service like Dynamik.
Dynamik was established roughly 30 years ago. For this entire time, our company has been providing the best residential upholstery cleaning solution in the industry. We offer a variety of cleaning methods that are effective in removing dirt, disease-causing bacteria, and allergens from your upholstery. We have a skilled and knowledgeable team of upholstery cleaners that know what cleaning products match your upholstery for a perfect clean. Get Dynamik to take care of your upholstery cleaning needs. Including commercial upholstery cleaning. Call us today for a booking. We guarantee you'll be completely satisfied.
We offer our services in all over the rest the GTA including suburbs such as Maple and Thornhill and even in Newmarket.