Commercial Upholstery Cleaning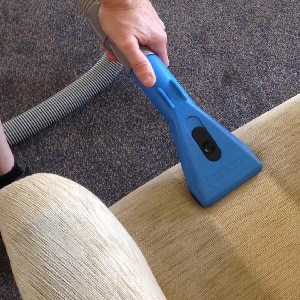 A workplace's furniture plays an important role, whether it is a large office floor seating 200 people, a small open-plan office for 10, a hotel or a restaurant. However, if the furniture is dirty, it can be very off-putting. Commercial upholstery cleaning really is mandatory when it comes to the cleanliness of the furniture in a business.
Dynamik has 30 years of professional cleaning experience with commercial upholstery. We know exactly what needs to be cleaned and how to clean it using our proven cleaning system.
Commercial Upholstery Cleaning Services
A business image that is spotless and makes a good first impression is very important. As is having a space that is free of bacteria and germs. We provide the following commercial upholstery cleaning services for all types of businesses:
FURNITURE STAIN & SPOT TREATMENT
Don't let stains ruin your customer's or clients' experience. All furniture eventually needs stain or spot treatment options as they are bound to happen. Dynamik can deal with these accidents ASAP before the stains and spots really seep into the upholstery and become worse.
STEAM CLEANING
If your upholstery is in a high-traffic area, it will accumulate dust and dirt. Dynamik provides a full-service steam cleaning package to help with the extraction of all dirt, grime, soil, stains and allergens to keep your upholstery looking fresh and clean.
DRY VACUUMING
Even if your furniture lacks visible soiling we can reduce the level of dust and allergens and increase the lifespan of your investment. If left unattended, dry soiling causes premature ageing and wear for upholstery. Our on-site vacuuming of your furniture may be the answer you're looking for and costs less than half as much as a steam cleaning.
MOLD AND ODOUR REMOVAL
If your furniture is giving off a musty smell whether it be from mold or other sources, we have a variety of options to remove this unpleasant odour.
UPHOLSTERY SANITIZATION AND DEODORIZING
We offer excellent sanitization and deodorization services that will not only keep your upholstery looking pristine, but also free of germs, bacteria, and allergens using eco-friendly methods.
EMERGENCY UPHOLSTERY CLEANING
If you have a sudden upholstery emergency that requires a deep clean, we're a 24-hour service that will ensure your business's furnishings are back to their original state ASAP.
Why is Commercial Upholstery Cleaning Important
Aside from the obvious benefit of providing a clean and fresh appearance, regular cleaning of your upholstered furnishings can have a positive impact on your staff and customers. After all, who wants to sit on a dirty sofa or chair? In many instances, upholstery gets a lot of use. It's used day in, day out, by the likes of staff, customers, clients and other kinds of visitors. In other cases, staff might sit on office furnishings like office chairs for hours at a time while working.
The benefits of clean upholstery are not limited to how it looks. You need to keep in mind that when a commercial space is fitted with quality furniture, there are many identifiable and measurable advantages for both staff and customers:
Improved Employee Morale – An environment where your staff can feel comfortable and be productive in an environment where employees arrive at work each day where they encounter a clean workspace. Providing a comfortable and clean work environment is very important.
Higher Customer Satisfaction – A professional appearance, which includes clean and maintained upholstered furnishings in commercial spaces, sends the message to customers that your business values them as much as you value their patronage.
Lower Maintenance Cost & Increased Lifespan – Furniture can be expensive to replace. Lack of cleaning can and likely will lead to this. Preventing commercial upholstery from becoming worn out and destroyed is a wise decision.
Your furniture will be better protected if you use a professional upholstery cleaning service. You can achieve this by working with seasoned technicians who are knowledgeable in a variety of cleaning techniques to make your business's furniture look its best.
Commercial Upholstery Care and Maintenance
The maintenance and care of upholstery are also crucial to its durability and appearance. Here are a few steps you can take to ensure the upholstery of your business is well maintained:
Vacuum Regularly – Cleaning your office furniture with a vacuum or carpet extractor can help remove dirt, dust mites, pollen, allergen and so on the surface of the upholstery.
Quick Clean Up – It is best to wipe spills up ASAP. Use a cloth or paper towel right away before any stains set in. If needed use a commercial cleaner if necessary. If spills are not treated ASAP they can seep into the fabric of the upholstery and will require professional services.
Upholstered Pillow Covers – If you have an office space or any commercial space with pillows on couches or sofas they may accumulate allergens, bacteria, germs and dirt from the environment surrounding them. Make it a habit of washing them every few months or so.
Tell the Manager – Put a 'tell the manager' system in place. If a staff member sees any new stains or spills on any upholstered office furniture they should tell their manager so it can be attended to ASAP.
How Often to Clean Commercial Upholstery
How often should you clean the upholstery in a commercial setting? The answer depends on the type of business, the size of your company, and how heavily your furniture is used. But, we typically recommend having your office upholstery professionally cleaned at least every six months. But don't go longer than 12.
The following instances call for more frequent upholstery cleaning:
1. During Cubicle Reconfigurations
A common mistake businesses make is forgetting to clean the upholstery on cubicle panels. However, the upholstered cubicle panels accumulate germs, dirt, grime and other particles in the same way as other furniture. Cleaning cubicle panels is a good idea when you reconfigure your cubicle spaces. When the panels are broken down, your commercial upholstery cleaner will have easy access to hard-to-reach areas of the panels.
2. Healthcare & Childcare Settings
Children's care and healthcare settings are particularly susceptible to germs and bacteria. So, it's important to clean upholstery more frequently in these areas than in conventional commercial environments. In determining how often to clean upholstery, you'll need to take into account its condition and susceptibility to getting dirty. For instance, chairs in a doctor's office waiting room or sofas in a kindergarten need to be cleaned every two months or so. Much more often than furniture in a call center.
Dynamik specializes in cleaning upholstered furniture in commercial settings from a general refresh to removing the toughest stains. To improve the quality of the indoor air and revitalize its appearance to promote optimal health. We use a proven cleaning process with methods that promote the health and wellbeing of your upholstery furniture. We also offer our clients both trustworthy and affordable cleaning services.
Protect your business's investments and keep your employees and clients in a healthy environment with Dynamik's commercial upholstery cleaning service. Call today to get a quote!
We also offer residential upholstery cleaning and more specialised commercial services such as entrance mat cleaning. We offer our services anywhere in the GTA from the far side of Halton Hills to North York and Richmond Hill all the way over to Pickering and beyond.