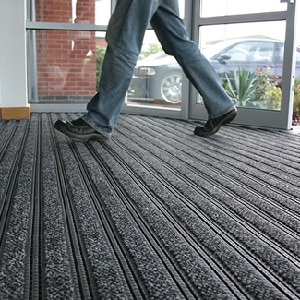 Entrance mats are an important part of any commercial space. They can help keep the environment clean by trapping dirt, dust particles, bacteria spores and other contaminants that could otherwise be tracked in. Helping to maintain a clean, welcoming space for your staff and customers. A small detail such as this will make all the difference with the impression your workspace gives off.
However, when entrance matting does its job correctly. It's going to get dirty, and fast! As the mats are generally used in highly trafficked areas such as the entrance and exist of buildings. Without the help of a professional cleaner, it can be rather challenging to clean a mat. The amount of dirt, bacteria and grime from the foot traffic can make it difficult to clean. But, you don't need to worry, Dynamik has got you covered. Our experienced technicians can not only clean your entrance mats but make them look brand new.
Commercial Entrance Mats Cleaning Services
Having a clean environment for anyone that walks through your doors is crucial to your companies first impression. At Dynamik, we provide high-quality, completely customizable mat cleaning services. Our professionals provide world-class service and specialize in removing all kinds of smells, spots, mold, dirt and grime from your commercial matting. Our entrance mat cleaning services enhance the appearance of your commercial space, ensure a healthy, clean environment, and extend the life of your mat. No matter the type of business setting you're based in we offer a variety of services, including:
Hot Water Extraction Process: During our hot-water cleaning services, we use hot water mixed in with cleaning solutions to extra the dirt, grime and germs from the entrance mats.
Proprietary Wet Extraction System: Unlike traditional mat cleaning systems, we employ a proprietary system that uses a combination of speed drying, a neutral chemical solution, agitation, vacuum extraction, and water extraction to thoroughly clean mats.
Encapsulation System: With our machines, you can get low-moisture, fast-drying solutions for your business when time is of the essence. This service is perfect for businesses that operate 24/7 and can't remove their entrance mats for long periods.
Mats for entrances are an essential part of commercial spaces. It can offer your business several benefits. One main advantage being dirt control. The best way to eliminate dirt at your entrance is to use a commercial entrance mat but for it to work it needs to stay clean. Simple in nature and functional by design, entrance mats stop dirt and grime at the door. If these mats are not present, dirt gets tracked into the building leading to scratched and damaged floors.
Debris and dirt also have a bad habit of embedding themselves in carpets. As dust is brought into the property it can settle into the air ducts, and other places. An entrance mat is perfect for dirt control. But, it needs to be cleaned regularly as a dirty mat will reduce the above-mentioned benefits above.
How to Keep Entrance Mats Clean
Since entrance mats are the first thing people see when they walk in, it is better to create a great first impression by keeping them clean and well kept. Maintaining your mats can be as easy as following these tips.
Vacuum Daily
You should vacuum these areas daily, either with a dry vacuum or with a wet/dry vacuum. By doing this regularly, you can increase the longevity of your entrance mats while keeping them looking cleaner as well. This really should be a task that your nightly janitorial staff or in-house cleaners take care of. To get even more dirt and dust out of the mat an agitation brush can be used beforehand to effectively loosen up the dirt. Then shake the mat before vacuuming. This prevents loose dirt from getting embedded into the mat.
Routine Maintenance
It is recommended that mats be cleaned and/or spot cleaned using a neutral cleaner, followed by rinsing. It is important to allow the mat to thoroughly dry before returning to service if it becomes excessively wet during the cleaning process. For nylon mats, a longer drying time will be required. To ensure that they can drain properly during the drying process, they should be hung near an open drain or a dedicated drying area.
Deep Cleaning & Washing
You can deep clean entrance mats using any method used for carpeted floors. We recommend that you hire a professional company to clean your entrance mats regularly with commercial-grade machines. Additionally, it is recommended that the underside rubber of the mats be regularly cleaned. Even if it's a simple wipe down.
Floor Preparation
It is recommended that the floor where the mat will be placed be cleaned to remove dust and dirt before putting it back into service. By doing so, the mat will receive a more stable grip on the floor, reducing mat movement with foot and other traffic.
Dynamik has been in the mat cleaning industry for over 30 years. We are committed to providing a second-to-none customer experience and ensuring you have peace of mind knowing your facility is having less dirt, dust, grime and germs tracked in as your entrance mats are doing their job.
We provide superior entrance mat cleaning for health care facilities, hospitals, schools, office buildings, stores and any type of commercial building. Don't wait until dirt becomes an even bigger problem. Contact us today and get Dynamik's professional mat cleaners booked in! We also offer various types of commercial upholstery cleaning such as an office chair cleaning service.
We offer our compaanies servies in Newmarket, Woodbridge, Whitby and the rest of the GTA.