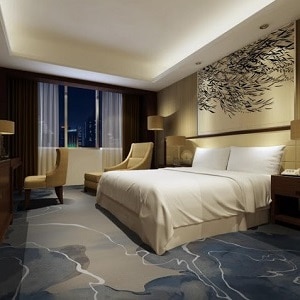 Carpet cleaning is a very important maintenance aspect for any hotel carpets. Not only because it improves the aesthetic appeal, but also because it protects them from excessive damage over time. The cleaner a carpet stays the longer it will last. Generally, the areas with the most wear and tear are entrances, corridors, lobby areas, restaurants, and other high-traffic areas.
Dynamik provides carpet cleaning services for hotels. We clean your hotel's carpets using a deep-cleaning process with our commercial-grade equipment that will remove any dirt or stains. We have been cleaning hotel carpets for over 30 years so we know what it takes to make a carpet in a commercial setting looking amazing. If you hotel is in Uxbridge, Courtice, Maple, Vaughan or elsewhere. We're the compnay for the job!
Hotel Carpet Cleaning Services
In the hospitality industry, first impressions are everything, and nothing can put guests off more than dirty and stained carpets that look as if they should have been cleaned a long time ago. However, there are several other reasons why you should hire a commercial carpet cleaning specialist, particularly if you want to improve the image of your business among both guests and employees.
Pleasant Aromas
Poorly maintained carpets that have not been professionally cleaned can produce a lingering smell that covers the surrounding area. This happens from the buildup of foreign matter that gets stuck to the carpet. A well maintained and clean carpets will smell fresh and produce a pleasant aroma or no aroma. Either of these two is what you want, vs lingering odours.
Reduced Running Costs
Hotel carpets are subject to a great deal of wear and tear, especially in high-traffic areas like the lobby, hallways, bars and restaurants. Professional deep cleaning will ensure that dirt brought in from outside that gets trampled and pushes into the carpets is dealt with regularly. Those stains, spots and marks will be removed frequently. This extends the carpet's functional life. Thereby reducing your business's long-term costs.
Visually Stunning Carpeting
Having lush carpeting in every room of your hotel will enhance the overall appearance of the space and will help to convince your customers that they made the right decision in their booking. Our powerful steam cleaning machines are perfect for extracting the high volume of dirt and grime that ends up in hotel carpeting and are capable of extracting dust particles from deep within the individual fibres that are nearly impossible to remove using a regular vacuum.
Reputation
The condition of your flooring, especially carpets, can indirectly influence your hotel's reputation. Keeping them in good condition will prevent you from having to deal with any issues such as negative social media posts or reviews about dirty carpets. It's proven that guests are more likely to leave a negative review about an issue they had in a hotel, such as dirty carpets, even if their experience overall was quite positive. This isn't something any hotel wants. Clean carpets can transform a guest's mediocre experience into a quality one.
Reduced Workload for Your Housekeeping Team
After your carpets have been deep steam cleaned by one of our experienced technicians, keeping them clean and smelling fresh becomes easier, which your housekeeping staff will certainly appreciate along with your bottom line.
The dirtier and more soiled a carpet is, the easier it is for new dirt, dust, grime and soil to stick to the surface of the carpet. The original soiling acts like a magnet for new foreign matter. It is virtually impossible to maintain neglected carpets for long periods. They will never get properly cleaned regardless of how much time housekeeping staff spends vacuuming them each day. A 300 room hotel that gets an extra 5 minutes each, four days per week, with the housekeepers trying to use the vacuum cleaners to get all the dirt and soil off the carpet adds up to 3,000 extra man-hours each month.
We can assure you that our carpet cleaning service will cost a fraction of your staffing cost in turn saving you a tremendous amount of money. Plus the carpets of the guest rooms will look amazing.
Improved Health for Staff and Guests
Carpets that are dirty release attached dust in their fibres when disturbed. For example when a footstep takes place on a carpet. This takes place thousands of times per day in a busy hotel and then this dust circulates throughout your hotel. There are many allergens and pollutants in dust, which can be harmful to the health of both guests and staff.
Regular vacuuming will help, but that build-up of dirt, soiling and dust will eventually get to a point where it needs professional carpet cleaning to clean the carpet.
Main Areas Where Carpet Cleaning Is Needed in a Hotel?
The carpeting in a hotel is the main thing that should be taken care of on the floor. It's not just for aesthetics, but it also provides comfort and cleanliness to guests. Of course, many other things need cleaning in a hotel, but carpets make 90% of what people see when they walk into your establishment so you want it to look its best at all times.
Carpets in the lobby are one of the most used pieces of carpeting. The primary reason for cleaning these carpets is to remove dirt and debris from outside that is tracked into your hotel.
Since this is the first place guests see, the lobby, it's important to keep them clean at all times. Potential allergens, dirt, grime and all sorts of foreign matter get tracked in on shoes into the lobby. And from there it moves its way around the hotel.
Other areas that need regular attention are the hotel hallways, guest rooms and restaurants. Guest satisfaction is one of the key factors to run a successful hotel and maintain high occupancy rates.
How to Avoid Dirty Hotel Carpets
It's the little things you can do to maintain your hotel carpet's appearance that matter. Several factors contribute to the difficulty of hotel maintenance. Due to the sheer size and foot traffic of a hotel, maintaining a spotless carpet is no simple task. Below a list of recommendations based on our experience.
Introduce Matting for Entrances
About 85% of the soil and grime that settles on your hotel carpet comes from the shoes of your guests. Preventing this problem at its source is difficult. You can't exactly ask your clients to remove their shoes before entering your premises. Rather, a quick and easy way to solve this problem is to install matting at your hotel's entrance. Matting drastically reduces the amount of soil that makes its way into your hotel's carpet. How? Well, it's more psychological than anything. When people see any entrance mat the majority of them will wipe their shoes before entering.
Clean Spills and Stains Right Away
The longer something that was spilt on the carpet remains on the carpet. The worse the stain will be. Addressing spill right away should be your hotel's SOP. It keeps your hotel carpeting looking pristine and it also conveys the impression to your guests that you pay attention to maintenance. If it happens in a common area it can be dealt with ASAP.
This might be hard if guests don't mention anything if it happened in a room. But, your housekeeping staff can be trained to identify any stains that are new in guest rooms. Then a process can be put in place to get that stain dealt with ASAP.
Schedule Carpet Cleaning at Appropriate Times
Carpet cleaning requires frequency and regularity. By creating a carpet cleaning schedule for your hotel, you will make sure that all carpets are maintained equally. Therefore, you should plan your carpet cleaning schedule so it coincides with your hotel's operations. You can't exactly shampoo your lobby floors during peak hours. Make sure you are coordinating with your staff and that your statistics are correct. When possible, schedule cleaning during times when guests are likely to stay in their rooms for an extended period.
You may want to do your cleaning in the middle of the night on a weekday. Dynamik offers hotel carpet cleaning outside regular business hours with fast dry times for this very reason as we know this is of vital importance. Similar to what we offer for office carpet cleaning after hours.
Use Professionals Like Dynamik
Carpet cleaning is a daunting task. Keeping this task in the hands of the professionals will make things easier for your hotel management. Professional hotel carpet cleaning is a level on its own. It's shouldn't be done in-house. A good step in developing a cleaning framework for your hotel is to outsource the carpet cleaning.
Impression matters. Not only do you have to impress guests with a clean hotel but it prevents them from getting sick, staff included. Plus your guests will enjoy their stay more if they don't have to worry about see or stepping on dirty carpets.
Dynamik has many years of experience in carpet cleaning for hotels. Our team is well-trained to handle any type of issue that you might encounter. Whether you're on top of it with preemptive, regular, carpet cleaning and maintenance or you are dealing with an emergency that needs a thorough cleaning. We can help you determine the best carpet cleaning solutions for your hotel. Please call us today to discuss your options. Let us be your expert carpet cleaners while you focus on what's important. Running your hotel. We can also deal with your restaurant carpet cleaning.