Condo Hallway Carpet Cleaning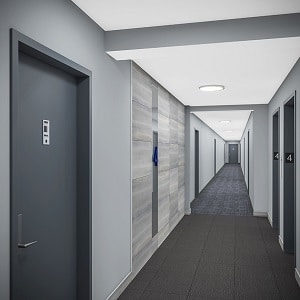 Hallway carpets matter. They not only liven up the atmosphere. They have a purpose. They help dampen disruptive sounds. And the carpet itself helps act as a magnet to suck up dirt, grime and allergens. So, they do get dirty quite easily. Condos get a lot of foot traffic with people coming and going all day with their usual activities. Tenants also move in and out frequently. Food stains and spills take place. Dirt is tracked along with other substances. Bacteria builds up. Gum can even get stuck to the carpet!
All of this makes for unsightly-looking carpets in high traffic areas that may reflect poorly on the establishment if cleaning carpets does not take place regularly. Poor appearance is never a good thing.
Fortunately, Dynamik has a specialized condo hallway carpet cleaning program. Clean hallway carpeting not only looks good but also keep reduce the spread of germs.
Condo Hallway Carpet Steam Cleaning Services
As a property manager, taking care of a condo interior includes the hallway carpets to make sure your residents and guests will enjoy visiting your property. A clean hallway carpet is vital to the well-being of both employees and residents alike.
If there is no standard system in place for regular maintenance then over time your hallway carpets will become stained. These stains can quickly build up and create an unhealthy environment inside condos and apartment buildings regardless of how often vacuuming takes place along with poor aesthetics. This can cause respiratory problems such as asthma being triggered if allergens are not removed. The best way to guarantee carpet hygiene in your hallways is by hiring professionals. Dynamik has been providing commercial carpet cleaning services since 1992, including cleaning the carpets of condo hallways. We can also clean condo stairs.
Our professional hallway carpet cleaners are well-trained and carefully selected. They each have many years of experience and only use state-of-the-art cleaning equipment. They will make the carpets of your condo or apartments in Brampton to Toronto and even Port Perry look amazing.
How Dynamik Cleans Your Condo Hallway Carpet
Dynamik has a specialized carpet cleaning process for condo hallways.
Step #1 – Examination
We check the carpet material, colours and stains to determine what cleaning method would be best suited for your condo hallways. Dry cleaning, hot water extraction, steam cleaning or even encapsulation could be used depending on the situation.
Step #2 – Carpet Testing
A dye and fibre test is used to determine which chemical cleaning solution would be most effective and more importantly, suitable and safe for your type of carpet.
Step #3 – Vacuuming
All the dust, dry soil, dirt and other large particles that are caught in hallway carpets are removed by a commercial-grade vacuum system. This is not your regular vacuum cleaning. We use high-powered vacuums that store-bought units can only dream of keeping up with.
Step #4. Spray Treatment
All areas of the carpet are pre-treated with a spray for effective cleaning. By doing this, the actual cleaning will be more effective. The spray helps to break down the stains making them easier to remove.
Step #5 – Deep Cleaning & Dirt Extraction
We now proceed with the machine cleaning using the selected carpet cleaning method. By using our efficient equipment, we extract all dirt embedded deep in the carpet pile. The result is a carpet that looks like it's new.
Step #6 – Sanitizing and Deodorizing (Optional)
This is optional but recommended. We sanitize and deodorize your carpeting. Leaving is smelling fresh while adding a protective layer that helps prevent the build-up of germs and allergens in the future.
Step #7 – Post-Inspection
The last thing we do before leaving your property is a final inspection to ensure nothing was missed.
Condo Hallway Carpet Care and Maintenance
Your carpets act as a filter for pollutants. To keep your condo and apartment building hallways carpet looking pristine and clean, we recommend the following steps.
Vacuum
The first thing you need to do is vacuum your condo hallways regularly. This should already be taking place. Something that you can add for bonus points is to use an agitating brush on the carpet once per week before vacuuming. This will help remove the dirt and dust that has already settled in so when it comes to vacuuming more dirt and soil will be taken out.
Spot Cleaning
Second, make sure that spot cleaning takes place when needed by the regular cleaning crew that looks after the carpets. Be it an external janitorial staff that comes in or an in-house cleaning team. Once a stain is identified it should be taken care of ASAP. If that's by way of getting a professional carpet cleaning company like Dynamik in for the spot removal or the cleaning team takes care of it.
Lastly, schedule regular carpet cleaning of the condo hallways to help extend the life of the carpets and keep them in top condition. We recommend three cleans per year for condos that maintain at least 90% capacity regularly. If the condo or apartments you manage has less capacity, 70% or less, two cleanings per year should be sufficient.
Dynamik knows condo hallways. We have been providing a quality carpet cleaning service for condo carpet hallways for almost 30 years since the 90s. We understand the intricate details that come into play that affect condos such as working around multiple tenants coming and going plus the need for fast drying times. We have a fair cost service with a fast turnaround time. Contact us today for a free quote and appointment.
We also offer other commercial services such as restaurant carpet cleaning, offices and hotels. Plus we can help with allergy control treatment carpet cleaning which can be very helpful for condo hallways.