Eco-Friendly Carpet Cleaning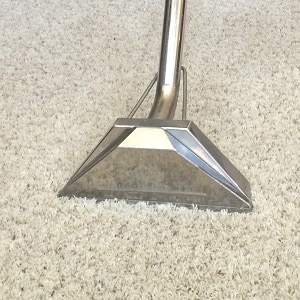 Your carpets can trap all kinds of dirt and dangerous particles. Not to mention stains can happen and soiling can build up. Whether you've got children or pets running around. Or it's just you and dirt is being tracked in with your shoes that's hard to see. To add to this you certainly don't want carpet cleaning products to trap potentially harmful chemicals and substances inside the carpets they're meant to clean. But how do you clean your carpets without using harsh chemicals? That's where natural carpet cleaning comes in.
Dynamik is a company that offers green and organic carpet cleaning services. Unlike the usual chemical-based cleaners, our products are all-natural and 100% biodegradable. By using our eco-friendly, specially formulated carpet cleaning solution and we guarantee that your carpet will be thoroughly cleaned.
Whether you or someone in your family has a sensitive respiratory system, allergies or is simply sensitive to any typical cleaning agents you can rest assured that our products are safe.

Our goal at Dynamik is to support a green and healthy household and environment. With our organic and eco carpet cleaning, our goal is to provide a cleaner, safer, and healthier option for you and your family.

Eco-Friendly, Green and Organic Carpet Cleaning Service
Our main eco service is organic carpet steam cleaning. We use an organic, plant-based cleaning detergent that leaves no chemical residue on your carpet. Children, pets, and seniors are completely safe with this product, and it's even recommended for this with sensitive allergic triggers. We get it, we understand. There is a big difference between an all-natural process vs a chemical process. You deserve clean carpets without the issues chemicals can cause.
The Dynamik company is a service that only uses the latest and best eco-friendly detergents and cleaners to handle your carpet cleaning process. But the results are the same. A carpet that is cleaner, fresher, dirt-free and softer.
Eco-Friendly, Natural and Organic Pet Stain and Odour Removal
When pet accidents are not treated properly, the odour can spread through the entire house. How? The urine stain can easily spread from your pet paws or even on your feet if you don't know you stepped in it by simply walking into other rooms after entering the affected area. As it penetrates the fibres of the carpet, it also contaminates the flooring below the carpet, as well as the carpet backing.
To effectively remove pet odour stains from carpeting, the best method is to use a solution based on natural enzymes. The problem areas are treated with a natural combination of all-natural cleaning agents used to remove pet urine spots, feces, and bacteria left behind. We can also use organic enzyme injections in severely contaminated areas. By attacking the urine at the molecular level, these injections digest the remaining urine crystals. Our treatment contains enzyme-producing bacteria that digest organic waste matter, destroying urine odour at its source for permanent pet odour removal. The product is resistant to high temperatures and PH without losing its effectiveness when we clean the carpet.
To finish off we use an all-natural sanitizer. This product neutralizes and eliminates all odours and bacteria caused by pet stains. Plus, it helps protect the carpet from future staining and keeps it fresh.
Organic Enzyme Preconditioning Treatment
Anytime a carpet is steam cleaned there is a pre-treatment that takes place first. With our eco-services, the pre-treatment we use is organic pre-conditioning treatment. We use this for stains, soiled areas, and high-traffic areas. By spraying the treatment on problem areas, it loosens the stain deposits in the carpet, bringing them to the surface so steam cleaning can better remove them without damaging the carpet protection. All done in an organic and eco-friendly and environmentally safe manner.
How Effective Is Eco-Friendly Carpet Cleaning?
Despite being an eco-friendly carpet cleaning service, plant-based, non-toxic, organic carpet cleaners are proven to be as or even more efficient than traditional methods when used properly. Non-toxic organic cleaning is not only better for your health but they're also good for the environment. All of those chemicals that traditional methods use can pollute water and soil, harming people as well as animals while organic cleaning methods produce no harmful elements which is why we recommend them to all our customers who want a safe and healthy household.
The natural and organic carpet cleaning service we offer is not only cheaper than what you would pay at a store if you bought all the products and hired a machine but, it's also more convenient.
Why Should You Go for Natural Carpet Cleaning?
Most people are aware of the health risks posed by dirty carpets, but fewer are aware of the dangers conventional carpet cleaning techniques can pose to humans, and pets. Consequently, organic carpet deep cleaning has yet to become a preferred service for those wanting carpet cleaning. Why? Because it's not understood correctly. Here are some benefits of using organic carpet cleaners:
Protects Your Family's Health
Using chemicals to deep clean your carpet can cause health problems for you and your family. This can seriously endanger the health of everyone in your home due if not used in the right manner and extracted from your carpet properly. Pets and small children can also be adversely affected by traditional carpet cleaning methods. As a result of exposure, people tend to experience coughing, nausea, headaches, sneezing, migraines, and fatigue.
As far as plant-based organic carpet cleaning is concerned, there are no toxic chemicals used that could compromise the health of your family.
More Convenient
When it comes to carpet cleaning, natural and organic methods are more effective and convenient at the same time. This method gets rid of bacteria and other dirt effectively.
It requires less water and dries carpets more quickly than any other method. This means that you do not have to wait 12+ hours or more to start walking on a freshly cleaned carpet. Within hours, you can have your carpet cleaned and ready to use.
Since the use of water is lower with organic carpet cleaning, the carpet will dry faster. This reduces the chances of mold or mildew growing in your carpet.
Cost-Effective Carpet Cleaning
The best part about organic carpet cleaning is that it's not expensive. It doesn't cost as much as you might think. This is an inexpensive way to reduce your carbon footprint and can help you reduce your waste.
Better for the Environment
Organic cleaning products do not use toxins and chemicals. A natural cleaner prevents the environment from getting adversely affected. A clean carpet should be a healthy and environmentally friendly carpet.
Green Cleaners Extend the Life of Your Carpet
Carpets that are cleaned using organic methods are more likely to last longer. Additionally, carpet fibres are preserved and retain their colour and texture. Organic carpet cleaning methods don't have the harsh chemicals that can cause carpets to fade in colour.
We go all over Toronto including Oshawa, Scarborough, Markham and the entire GTA.
Choose Dynamik for Organic Carpet Cleaning
For more than three decades, Dynamik has been providing eco-friendly carpet cleaning with environmentally safe products and non-toxic cleaning solutions. Our green carpet cleaning process is copied from Mother Nature, so it refreshes and deep cleans your home's carpets without harsh chemicals. Call us now for a free estimate and let our skilled technicians showcase their talents with organic carpet cleaning. We also offer dry carpet cleaning and 24 hour emergency carpet cleaning.